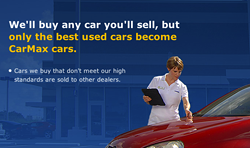 CarMax sells lots of cars and they do a good job at it. They also will offer to buy your car on the spot, even if you choose not to purchase a car from them – sounds like a pretty cool guarantee, right? Well….maybe not so much for people that need access to fast cash.
CarBuyerUSA beats CarMAX offers 9 times out of 10 - and we pay you the same day! That's right folks, our funds are guaranteed and you have access to your money the same. CarMax will buy your car, but they will pay you with a bank draft that isn't good for 7 days. The money will be there, but just not for 7 days…not sure why they have a payment mechanism like that in place, but they are floating your money – earning interest on it while you wait.
CarBuyerUSA buys cars nationwide and we are licensed, bonded and insured. We buy anything from "rollovers to Range Rovers" and we can pay you the same day. So if you're thinking of selling your and need access to cash quickly, CarBuyerUSA is your bank!
Permalink
|
|