Kelley Blue Book Used Car Value - What's My Car Worth?
Is KBB Accurate and Reliable?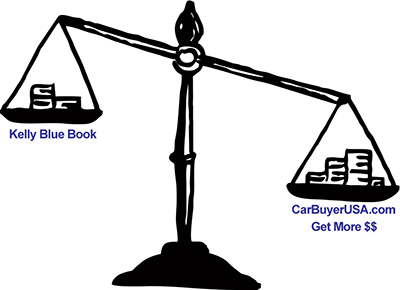 Often we're asked if KBB should be considered the best way to determine a used car's value how to sell a car fast. In other words, "Should I use KBB's price guide to find out how much is my car worth to sell it fast?" In short, the answer is no. Let's take a look at what goes into Kelly Blue Book's pricing guidelines to answer the question is KBB accurate and reliable, and see if it's truly "The Trusted Resource®" it claims to be.
Most people know dealers establish a trade-in value using KBB; but you may not know they compare numbers to set their lot prices too. Private sellers think Kelly Blue Book is the most, if not the only, trusted reliable resource to find a car's resale or trade-in value. It is by far the most popular go-to as a trusted guide; but is the "good book" to good to be true?
KBB Follows the Money Trail
There's a huge misconception that KBB is "setting car prices" and it's simply not true. Kelly Blue Book isn't in the business of setting prices, they're in the business of "tracking car prices" according to supply and demand. KBB follows the money trail and more often than not, it takes a while for the tracked information to get to them and then listed in their pricing charts. This means their listed prices are not truly current prices and actually behind the day's car value numbers. A.K.A. not accurate.
What Goes Into KBB's Posted Pricing?
Do you know Kelly Blue Book owns Autotrader®? Well they do, and KBB uses their posted prices along with weekly auto auction prices in an algorithm to determine a vehicles value price. With such a broad and large band of information to pull from, KBB has successfully positioned themselves as the authority on having the most accurate price evaluation guide with "the real world" numbers. You may be saying, "So what.", but there's a real problem here and with every pricing guide out there.
What's the Big Deal With Pricing Guides?
For starters, in 2008, listed prices began to cave-in on big gas guzzling SUV's due to low demand; it took a while but KBB eventually got their act together and the correct pricing in their guides, Unfortunately, they were still late in the game even when they got in the game! This means the guide was misleading then and since their data and analysis reports continue to slowly make their way through the pipeline, they're behind in present day and still misleading consumers.
What about vehicles in high demand, are they priced right in KBB? Contrariwise, the price is also misrepresented due to the low-balled value in the price guide. For instance, when a 2007 Honda CR-V with 100,000 miles in good condition is pulled up on KBB.com, they have the CR-V priced at $4,910 as a trade-in value and $5,131 as a private sale value (as of October 2017). Both values are low when compared to real world pricing. The reason for this is demand and plenty of it. On a side note, Edmunds.com has that same 2007 Honda CR-V with 100,000 miles on it in good condition for $4,505. Seriously? That's lower than KBB!
So what's the best way to determine how much you could sell your car for? That's easy and you're in the right place for it. Car Buyer USA has a patent pending formula we use to calculate the correct value of a car, truck, van, or SUV, 2004 and up. All you have to do is enter your vehicle's information in a short form and you get a 20-second offer. No hassles, no fuss, no problems. Better yet, just because we buy cars you may decide to not to sell your car to us and opt for an official offer in writing; proof of what your car's resale value really is and we're ok with that too.
When it comes to the questions, "how much is my car worth" and "is KBB accurate and reliable to sell a car fast", you now know the truth; we give you the true value of your car's worth and KBB is not! Don't let Kelly Blue Book fool you with their lagging and out dated information. Instead, trust CarBuyerUSA.com. We'll offer you a current, up to date, accurate and reliable price for your vehicle. We don't mess around when it comes to getting the most value for your car and money in your pocket. We get the number right the first time and in real time.
How It Works
We Buy Any Car in any condition, anywhere in the Continental USA.
1 Get an Instant Cash Offer
Enter the Year, Make, Model, Trim Level & Miles (No VIN Required) and your cash offer appears onscreen (94% of the time)
2 Accept your offer
CarBuyerUSA offers are Cash Market Value. Funds are guaranteed and paid at the time of pickup or drop-off
3Talk to an Agent
Your CarBuyerUSA representative schedules a no obligation inspection. In most markets an on-site mobile inspection can be arranged. The digital purchase agreement takes less than 60 seconds to complete.
4 Get Paid
When CarBuyerUSA picks up your truck, you are paid on the spot in full with guaranteed funds – entire process is hassle free. Inspection, title work & pick up are all FREE.
Enter Vehicle Info Below for Immediate Quote