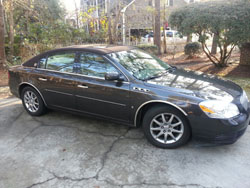 1. Know your audience
2. Find the best way to reach them
3. Price according to Market
Knowing your audience is very simple and the starting point for selling your car online, but most people blow right past who the best audience is for the car they are trying to sell. Quite simply, if you identify the target audience for what you are trying to sell and you have something they want, you should be able to find a buyer. The more potential buyers that you have for a vehicle, the higher the selling price – great news for you! Remember, if it sells good new, it sells good used and the demand should be there - if the car was care for properly. Most sellers happen to have a much higher opinion of their vehicle with respect to condition. Be honest with yourself because buyers will do their homework and call you out on misrepresentation. If you are selling a 10 year old luxury car, your audience is not luxury anymore. In fact, its very difficult to find buyers for older high mileage luxury cars because Luxury Buyers want Newer, Low Mileage and pristine condition.
Finding your audience – the best way to make the point on finding the audience is with an example so lets take one.
2004 Audi A8L AWD with 160,000 miles – this was a very expensive car when purchased new but now it's 11 years old. 2015's are arriving as we speak and an Audi A8 buyer will want the newest, biggest and the best. College kids won't find a parent that will sponsor an Audi with 160,000 miles – everyone knows they start getting real expensive over 100,000 miles. You need to find an Audi A8 enthusiast or an Audi Mechanic or someone related to a VW / Audi mechanic. Again, its a nice car, but it's not known for reliability like a Toyota or a Nissan and with 160,000 miles it's not the hot property Kelley Blue Book will tell you it is…If KBB thinks it's worth $11,000 then ask them to buy it! The marketing time for a vehicle like this is probably close to 90 days. The game changer is price. If it's discounted deep enough, you increase the audience for the vehicle and it will sell faster. Which is a great segue to price!
Price your vehicle according to market – Selling your car yourself is a lot of work. Make it easy on yourself and go to the right sources and be realistic about the condition. On any used car, mileage is the biggest factor, closely followed by condition. We see people that live in NYC try to sell us cars demanding outrageous prices (usually Kelley Blue Book) because the miles are very low. But low miles do not make up for poor condition. A car driven in NYC for 5 years is going to be in very rough shape. Every panel has multiple dings, dents and scratches and the bumpers are torn, broken and cracked. City cars are always the worst cars in terms of condition. Miles mean nothing at that point, nobody wants to buy the car. Condition will help sell any car, even a high mileage vehicle, but it won't change what the vehicle is…
Example:
2005 Dodge Neon with 45,000 miles VS. 2005 Toyota Corolla with 45,00. You might price the corolla at KBB but not the Dodge – it is far beneath the Corolla in resale value.
Selling your car online won't be fast, fun or easy unless you want it to be!
CarBuyerUSA.com will buy any car, in any condition anywhere in the Continental USA
If you need fast cash for your vehicle or just want to get a quick price, call (888) 995-6498 or visit www.carbuyerusa.com.
Our knowledgeable and courteous staff will give you a guaranteed offer on your car or truck with no obligation.
Sell your car the easy way, call CarbuyerUSA.com.