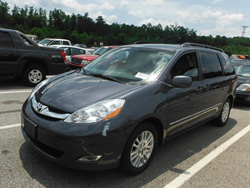 If you're selling a used car privately, there are several sites that can provide a benchmark value for your used vehicle. The best one out there is NADA because that is the one banks & finance companies will look at before they approve a loan on your vehicle to a potential buyer.
A bank will "advance" or finance a percentage of the book value, based on the creditworthiness of the potential buyer. That means, he/she has to produce the remainder of the purchase price in the form of a down payment to you. You can value your used car in less than 3 minutes, totally free at www.nada.com. Print the value page and show it to prospective buyers. Remember that this is a guide for negotiating a price and there are three factors that come into play when you are selling a used car privately:
1. Age
2. Miles
3. Condition
Condition is EVERYTHING when selling a used car. It really doesn't matter what it is, it's "how it is" that matters. You can have a loaded V6 Honda Accord with low mileage that is in rough shape and nobody will want the car for the book value. It doesn't matter what Guidebook you choose, the car must be sold at a discount because of the condition. Most people are not objective when it comes to condition and they tend to overvalue their vehicle.
Other factors to be considered when pricing your used car:
• Time - how much time do you have–to market and sell the vehicle
• Tolerance - for missed appointments, hagglers, low-ballers and scammers
• Personal safety – what's more important to you? A few more bucks on your used car or the safety and security of your family
Selling a used car privately is no easy task. Please consider all your options and do your research before you tackle this assignment.
For more information on selling your used vehicle, or a free purchase quote call (888) 995-6498 or visit www.carbuyerusa.com.