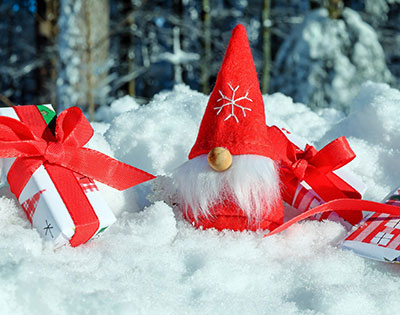 While the thought to sell your car is hot on your mind, I thought it'd be a good time to seize the moment to tell you about 11 interesting facts about the Christmas Holiday. Nope, these have nothing to do with CarBuyerUSA.com; unless of course, you relate it to, we buy cars, and we'll give you that extra cash for some last minute #gifts!
Many places around the world donate Christmas trees to zoos to feed to their animals.
All letters addressed to the big guy, Santa, in the United States are mailed to Santa Claus, Indiana.
The engineers of the Voyager Space Mission planned its travels out so during Thanksgiving and Christmas any planetary encounters would be avoided.
Irving Berlin's song "White Christmas" is estimated to be the best selling single in history having over 100 million copies sold.
Paul McCartney's Christmas song earns him close to a half million dollars yearly. This is kind of odd when you consider many critics regard it as his worst song ever.
Since 1960, every Christmas Eve a large number of Sweden's population watch Donald Duck cartoons.
Many of the "we're always open" Denny's restaurants were built without door locks installed. This became a huge problem in 1988 when they decided to close business down for Christmas.
In 2010 the Colombian government decorated jungle trees with lights during Christmas. When any members of the terrorist group, FARC guerrillas, walked by the trees would light up making banners asking them to lay down their arms visible. Three-hundred-thirty-one of those guerrillas left the group and re-entered society. The campaign was considered strategic marketing excellence and went on to win an award.
Jewish composers are responsible for some of our most popular Christmas songs – "I'm Dreaming of a White Christmas", "Chestnuts Roasting on an Open Fire", and "Winter Wonderland" to name a few.
Christmas purchases in the United States accounts for one-sixth of all retail sales.
The "X" in X-mas comes from an ancient Greek tradition. The letter X is the abbreviation for "chi", meaning Christ in Greek.
Like I mentioned above, you may not thing these really have much to do with CarBuyerUSA.com; but don't they? It's Christmas time and that means money is being spent on wonderful gifts for your family and friends… and maybe even yourself? I ALWAYS had to give money to my kids to buy me presents. Which reminds me, I'd give them each $100, they'd hit the shopping mall, and on Christmas morning I'd open a $20 gift. It took me a few holidays, but eventually I gave them a list to choose from and a warning they'd end up with $20 worth of gifts.
Car Buyer USA pulled together these eleven interesting Christmas facts for you, because who doesn't love to know what's in the details? If you need a little extra spending cash for some shopping, give us a call. Better yet, fill out our short form with a few car details and sell your car to us! We'll get you that extra cash you need and we'll do it fast, safe, and easy for you! You can even beat the holiday traffic and let us come to you! We buy cars, trucks, vans, and SUVs in any condition; that means if they're running or not! What are you waiting for? Get started now, you have some shopping to do!
Permalink
|
|