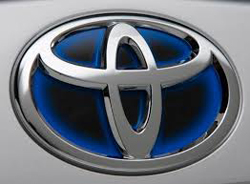 Toyota is recalling around 1.9 million hybrid Prius cars around the world following the discovery of faulty software in the car's hybrid-control system.
The affected vehicles were manufactured between March 2009 and February 2014.
Toyota said that some 713,000 in Prius Cars in North America have been affected.
Toyota says of the software defect: "In rare circumstances, the hybrid system might shut down while the vehicle is being driven, resulting in the loss of power and the vehicle coming to a stop."
No accidents or injuries have been reported related to the problem.
The Japanese automaker suffered massive recalls starting in 2009, affecting more than 14 million vehicles for problems including floor mats, gas pedals and brakes.
Affected car owners can get more information at www.toyota.com/recall or by calling Toyota at 1-800-331-4331, the carmaker's website says.
"CarBuyerUSA believes very strongly in the Toyota Brand, they take product quality very seriously and this recall demonstrates that commitment". "We buy cars all over the continental USA and Toyota consistently outperforms almost every other brand out there" stated Michael Lasini, Founder. "CarFax and consumer advocates will sensationalize Toyota's Recall as a problem when in fact it's an opportunity! Toyota dealers will reconnect with hundreds of thousands of Prius owners and show them what makes their brand great. Today a product recall is a badge of honor and not a symbol of disgrace as the media would have you believe it is."