As a reminder, and for those who may have missed information made available here in earlier posts, below are some Coronavirus COVID 19 websites with valuable information. Also as a reminder, we buy cars fast digitally online, you can get an instant cash offer in as little as 20-seconds, sell your car quick right from the comfort and safety of your home, and WE COME TO YOU! You stay home, stay safe, and stay well. If you're thinking "sell my car quick" to Carvana, you're out of luck; the pandemic has stopped CARVANA from buying cars! Don't worry though, because Car Buyer USA is still here for you waiting to buy your car FAST, SAFE, and EASY! See how it works.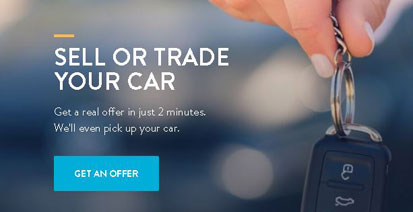 Something odd I noticed, is why wouldn't Carvana have the message…
"COVID-19 Update – Operational changes to keep customers and employees safe have impacted vehicle purchasing. We are still accepting trade-ins with purchase, but have temporarily paused all other purchases of vehicles from customers."
…on their home page? It's because they're hoping to keep visitors (you) on their page longer and if you click on "get an offer" you've now helped their page ranking on Google search. This is also known as "giving it a little juice" in SEO circles.
Instead of being able to decide if you want to waste your time thinking you're about to click to find out the value of your vehicle, you don't see this message until you click from their homepage on the button "GET AN OFFER". If you look a little closer at the image, you'll see you can get a real offer in just 2 MINUTES. JUST? Seriously? Not only is that 1 minute and 40 seconds LONGER than the high instant cash offer you get from us, it's misleading right from the get go. NOT COOL. IMHO, that's click bait because it's not true today (April, 22, 2020). We're very proud of our quote takes 20-seconds, and under most of the time; and all that's required is completing our short form. That's not click bait, it's pure honesty.

PREVENT THE SPREAD OF THE CORONAVIRUS – COVID 19
COVID-19 Maps & visuals
All of us here at Car Buyer USA care about yours and your family's safety. We are practicing social distancing, using common sense judgement calls, and practicing safety 24/7. We encourage all Americans to do the same. It can save lives.
Practicing Coronavirus COVID 19 safety advice, provided by medical professionals and our government representatives – valuable information above – is of high importance to make sure you don't become infected. We hope by now all Americans have been, and continue to be diligent and by now washing hands, wearing some sort of facial protection when you need to go out are just second nature good habits. Car Buyer USA buys cars digitally in every Continental U.S. state city. To get your high 20-second instant cash offer fill out our short form and a live agent will contact you soon. We buy cars FAST, SAFE, and EASY so you can sell your car quick right from your couch. We come to you so you can stay safe. See how it works now.