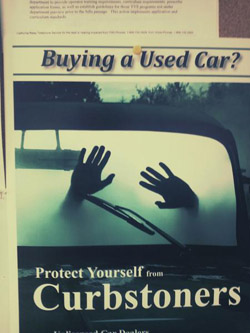 I got a call from a friend yesterday that was trying to buy a car from an individual that she connected with on Craigslist. The car she was attempting to buy was a very nice 2007 Toyota Camry with 100,000+ plus. While the car was in excellent condition, the miles were lower than average and the seller's asking price was Kelley Blue Book. She had the car taken to her mechanic, bought a CARFAX report and did everything she could possibly do to protect herself from a scam and agreed to pay a premium for the vehicle (the KBB price).
She left a sizable deposit on the car and went to her bank to get a loan. What she found out next will shock you!
The seller of the vehicle is a Curbstoner – a non-licensed dealer that flips cars for a profit without paying taxes or adhering to regulatory requirements that are in place to keep dealers compliant and protect the public from harm. This Curbstoner was trying to sell a vehicle that they did not own. Meaning they were not on the title and the name of the individual on the title was different from his last name. His excuse was that he was "selling it for a friend". He showed my friend that the title was signed by the owner but not dated. No big deal right? WRONG! How do we know that the owner gave permission for the vehicle to be sold? How do we know the signature is not a forgery? How do we know that this vehicle is not part of an estate and the owner on the title is deceased ? All those things mean you will be paying for a car and it will never be yours because it was conveyed to you illegally.
My friends bank told her that the check would have to be made out to the person that is on the title and they wanted to see a copy. The greedy Curbstoner told my friend to tell her bank that she was actually dealing with the person on the title and that the seller wanted cash. If my friend had agreed to do this, she would have committed bank fraud!
Unfortunately, my friend was unable to proceed with the deal and the Curbstoner kept her cash deposit.
Don't let this happen to you! Whether you are buying or selling a vehicle, stay away from Craigslist it's a haven for people that want to take advantage of you. CarBuyerUSA will buy any car and we will come to you. We put everything in writing in a legal purchase agreement so you are protected. Our transporters are bonded and insured and our funds are guaranteed.
If you need to sell a vehicle yourself, do it the easy way and call CarBuyerUSA.
For more information please call (888) 995-6498 or visit www.carbuyerusa.com
Permalink
|
|