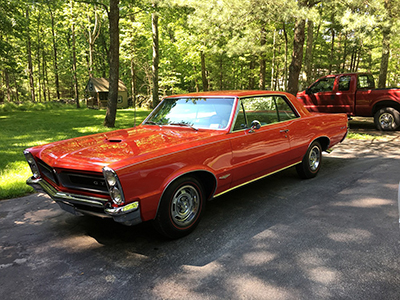 Being a very active food blogger in the Greater Atlanta Area I'm out and about a lot and meet new people frequently, but it's not like the topic of sell your car comes up often. When it does, I'm on it; but if I'm honest it's only because I met, talked to, and I write for the guys behind Car Buyer USA; and I'm truly impressed with these guys. I've never really had a reason to feel any kind of passion about selling or buying cars. My passion has always been about classics and muscle cars. Oh, and a Bugatti; I need a Bugatti. I'm meant to have a Bugatti sitting in my long driveway right outside my two 20 car garages housing my Superbird, '59 hardtop convertible Corvette, Cuda, Dart, Comet, Charger, GTO, Barracuda, …you get the picture, which brings me to the reason for this post; "classic car damage". It's really so sad. The words damaged car and muscle don't belong together, much less process. They just don't compute.
I watch car auctions on TV and my friend and I'll battle over do you drive it or do you cart it around? My feeling is part of the fun of having a badass street mean muscle of a classic is showing off. Ha. I'd want EVERYONE to not only see me rolling down the highway, but hear me coming. How does it go? "Got those highway blues can't you hear my motor runnin'? Flyin' down the road with my foot on the floor. All the way in town they can hear me comin'. Ford's about to drop she won't do no more. fa la la la la…" Yep, that's me. And I can't forget about "Gotta keep movin' or I'll lose my mind." It's just something you feel or you just don't. I'll never understand how those who don't get "it", don't get it and it seems impossible a person wouldn't feel it. But no matter, the rumbling of muscle gliding down the highway is the American way, period, and I'm as American as they come.
So, how did it make me feel when Tom told me his precious 1966 GTO was in a car crash? "My heart started achin', my body started shakin' and I can't take no mo-ore!" and the room began to spin. Tragic. I couldn't imagine. Give me a '66 GTO and let Mother Nature so much as blow wind on her and she'd get her butt whooped. Let some guy hurt my baby… oh boy. Yeah, I have redneck hiding in me and I know where to find it when it's needed. I think I'd be red in the face screaming before I realized it.
After I caught my breathe I moved the conversation to, "I know someone that buys accident cars for sale. I know who you could sell your car to if you're looking to cut your losses." The way Tom looked at me, "what is my car worth?" you would've thought I had three heads; and he didn't have to ask if I was crazy. Rude. I already knew he wasn't selling his GTO, I just shamelessly seized the opportunity to promote my guys. Car Buyer USA's claim to fame, rightfully so, is "we buy cars in any condition anywhere in the U.S. and we do it fast, easy, and safe." You can drop your car off at one of their preferred partners or if you need them to, they'll come to you and have cash in your bank in no time. I'm not really sure if they'd buy a classic, but if you or someone you know has a 2004 or later vehicle that needs to be sold quick, they're your guys. Jeez, now the Doobie Brothers and Whiteshake will be going off in my head all day. Could be worse though. It could be won't you be my neighbor; and by the way, you know damaged car and muscle don't belong together. It's an oxymoron as much as the guy that hurt Tom's GTO is a moron. Classic car damage is a sin. I'd hit a tree first.
Permalink
|
|