In Nathaniel Hawthorne's 1850 novel, The Scarlett Letter, the main character had to wear a scarlet "A" to let others know of her alleged sin. Fortunately today, people are not subject to public shame over a single circumstance or event. However, if their vehicle has been in an accident, databases worldwide track this information and make potential buyers aware of the vehicle's history. The more things change, the more they stay the same.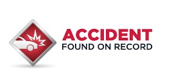 There are 25 million accidents in the U.S. each year. Only 15% of those are deemed total losses and paid out by insurance companies. The balance is repaired, driven unrepaired or scrapped. Repairing these vehicles is a multi- billion dollar endeavor and only half of the damaged vehicles are repaired with insurance company funds. That leaves 10 million with no financial assistance due to lack of insurance coverage, being at-fault or some combination thereof.
The emergence of Vehicle History Reports has made the accident the "star of the show," creating another multi-billion dollar industry. CarFax in particular has dominated the consumer market with its FUD (Fear/Uncertainty/Doubt) marketing tactics. The American public is now convinced that a vehicle is "worthless" after an accident. They are correct-both literally and figuratively because "worth less" is indeed the case. This loss in value due to stigma is called "diminished value."
The psyche of today's car buyer is dominated by CarFax in the U.S. and 9 out of 10 customers will not even look at a vehicle if it has accident history. This is not opinion, it is absolute and unless the selling dealer can provide proof that the vehicle is accident free, the vehicle is passed over. Most customers at the retail point of sale believe that alternative vehicle history reports like AutoCheck are controlled and manipulated by dealers to trick customers into buying a vehicle with accident history. This forces the dealer to provide multiple vehicle history reports to sell the same vehicle. As a result of this brand strength, virtually every business in the automotive supply chain touching a retail transaction has a significant need for extensive vehicle history reporting.
Below are high-level observations on how vehicle history reports impact industry players:

What is Diminished Value?
Imagine you're going to BestBuy for the new Samsung 4K HDTV – the pinnacle of flat screens. The retail price is $18,499 and they are completely sold out, but they have a refurbished one they can sell you right now for the full retail price. Would you buy it? Seriously, only a fool pays full retail for a refurbished item so you quickly ask what the discount is and what specifically was wrong with the TV offered for sale. The salesperson tells you that he has no way of knowing what was wrong with the TV, just that it has been refurbished and the great news is that they can save you 10%. Now 10% is a nice gesture but hardly enough to make any consumer want to buy a "refurbished" high-ticket item, especially not knowing the extent to which the unit was repaired. Was it a power button?
Was it dropped and the screen shattered, or just an open box used for display at a show?
Now if 10% is obviously not enough of a discount to induce the buyer to consider a "refurbished" high-ticket piece of electronics, why would that suffice for an automobile? Refurbished is a very general term leaving much room for imagination when a very high degree of precision is required for collision repairs. The insurance company has all the details associated with the repair, to the penny, but will not share this information with vehicle history reporting agencies. They will, however, make certain that the claim is reported and specifically what the cause or nature of that claim was in general terms. Here within lies the problem because we don't know as the buyer or seller of the vehicle downstream what the severity of the repairs were, so we are left to deal with the stigma of "refurbished." The customer simply does not know the severity of the accident so they look for a vehicle with no accident history because there is no benchmark for exactly how much discount they are entitle to. The vehicle with accident history sits in dealer inventory a long time until discounted heavily to be sold. This discount is diminished value and CrashCalculator.com sets the standard for the calculation.
What We See
Here are a few statistics from 2015:
- Average diminished value loss was $3,000
- 85% of total diminished value loss was inherent or "stigma" related
- Structural damage occurs to a very high degree (95%) at specific thresholds
- Unitized construction: $3,500 - Full frame: $4,500 - Unitized on frame: $4,000
- Airbag deployment results in structural compromise 98% of the time
- Structural damage can exist and is not disclosed until the vehicle is inspected and processed* by an NAAA auction
- Inherent and structural diminished value is not related to repair quality
- Substandard or poor quality collision work will have a demonstrable effect on vehicle value but are unrelated to diminished value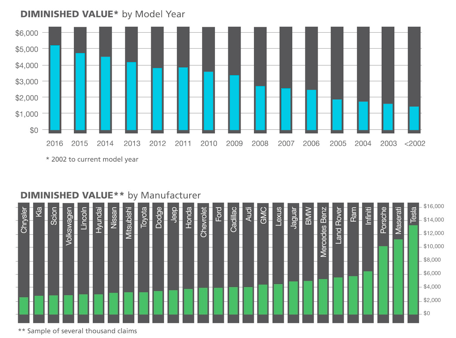 Other Challenges
In our foreword we mentioned that 10 million accidents each year go unreported. Not all of these vehicles are repaired; some are scrapped or driven in their damaged state. Typically repairs are paid out-of-pocket by savvy owners seeking to avoid policy rate hikes plus the loss in value associated with accident history. The insurance carriers win as claims handling costs go down and everyone else downstream loses as the vehicles get sold or traded with the repairs being later documented through physical inspection. Auto Auctions most commonly see these repairs and report them as "frame/structural" damage announcements to AutoCheck.
Silos
AutoCheck is the only VHR with physical inspection data from auto auctions but it is limited to frame/structural damage announcements that are not shared with consumers. The damage associated with these findings at auction fall on the higher end of the severity scale because they occur when damage is greater than the average insurance reimbursed repair. AutoCheck and CarFax do not collaborate and there are hundreds of thousands of vehicles that have frame/structural damage in their history but no documented record of an accident in the vehicle history file. Experts estimate that there are 70-80 million vehicles on U.S. roads with accident history and 10% have suffered frame/structural damage.
Auto Dealers are required to disclose accident history in most states but if the vehicle was purchased in a "whole and undamaged state" how does the dealer ascertain it was in an accident? Paintwork does not prove that a vehicle was in a collision and, unless there is glaring evidence of collision damage or vehicle history, it is not easy for the dealer to find or disclose such evidence, which creates liability.
Conclusions
Diminished value is tangible and a very big problem in the U.S. – more than $250 billion!
The monetary damage created by diminished value runs deep and touches almost every vendor in used vehicle supply chain. Vehicle History Data Providers are working feverishly to add more data, more products and dig deeper to provide more of a picture and create more value. This information should be available to "all" sources if it is discovered or created and has an impact on the value of the vehicle. Insurance carriers are the largest collision repairer in the U.S. yet they shield the American public from the details associated with the actual repairs. The average collision repair performed is $3,500 and with more transparency, diminished value would be far less of a problem.
Data providers, auctions and insurance companies should also share data that has an impact on vehicle value. This would include but not be limited to:
- Frame/structural damage
- Flood damage
- Fire damage
- Smoke damage
- Previous repairs
- Substandard repairs
- Collision repair work performed
- Mileage discrepancy
- Theft history
- Salvage/total loss
About Us
Vehicle Valuation Systems provides best-in-class diminished value figures instantly without the need for a physical inspection. Consumers, dealers, attorneys and financial institutions use CrashCalculator.com for legal settlements, vehicle valuations and risk management. Our patent pending CrashCalculator.com allows users to do large volumes of diminished value reports quickly and easily.