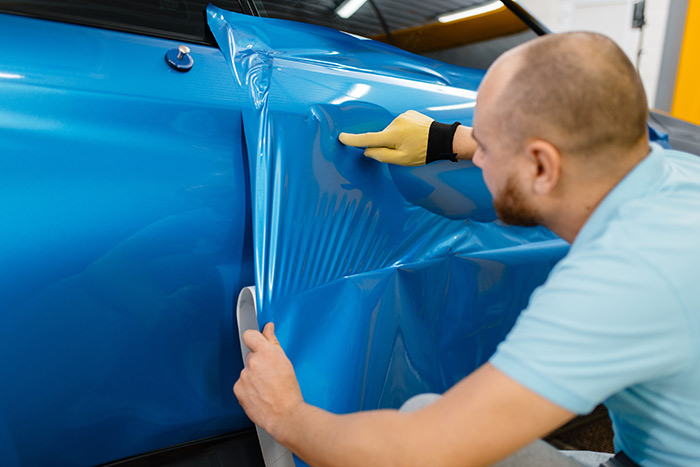 It is sometimes more productive to tell the punchline before the joke. Anticlimactic? Sure it is… but people today want information fast. That's why they use the internet!
So the answer to the above question is a resounding "NO"…in fact you can make that a "Hell No!"
Here are the TOP 3 Reasons not to wrap your vehicle:
Wrapping a vehicle requires a personal selection. It is highly custom and designed for your taste exclusively. All you are doing is limiting the audience of potential buyers to those with your exact preferences. When you limit the audience for an item, you lessen the demand which equates to price erosion.
It is not, I REPEAT…it is not easily removed. You will spend $2000-4000 wrapping your vehicle in a very unique color and most likely this will not include the door jambs and trunk and under the hood which will remain the factory color. The wrap is applied and heat shrunk or worse yet sprayed onto your car (dipped) and there will be razor cuts, tape marks, overspray and other undesirable effects that will cause damage. That is during the application! When you try to remove it there will be paint hazing and potentially removed paint when yanking it off. That doesn't even consider fastidious hands of an untrained detail assistant with a razor scraper. Yeah even the plastic blades will tear the paint up on a car. Show me a vehicle with the wrap removed and I will show you the damage.
It does not protect the paint, it fades, tears and scratches more easily than any factory finish. Paint is much harder and far more durable than vinyl. We have seen them damaged in car washes, in fact some car washes won't take a wrap vehicle in – they require hand washing.
This information is going to make a lot of people salty and will draw all kinds of fire from MFR's, custom shops, applicator techs, tuners and the performance crowd. We will add that a Clear Bra or Paint Protective Film (PPF) is a huge value killer. Dealers (MFR's also) sell this garbage for thousands of dollars along with a so-called "magic" paint sealant (wax) and an optional warranty for stone chips / paintless dent removal (PDR) packages. This film is very thick and yellows in the sun very quickly and is quite noticeable after a season of carwashes and normal road wear. PPF has a lifespan of 5 years tops and most shops won't even give an estimate on removal. It is very tedious work and the paint will be left damaged and the shop won't want the liability.
In closing, in our experience we have never seen a wrapped vehicle fetch more than fair market value for a vehicle with the original factory finish. Even if its BROWN, don't wrap it because the brown door jambs won't show well with the pearlescent pink wrap your daughter wanted.
For more info on Wraps and vehicle valuations please email us: info@carbuyerusa.com
Permalink
|
|