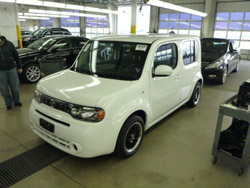 If you are selling your car yourself, there are a couple of things you need to think about before you embark on your journey.
1. Who is the buyer for the type of vehicle you are selling?
2. What's the best way to reach potential buyers?
Most private sellers focus immediately on price – "How much can I sell my car for?". The first thing most sellers do is look at online price guides including KBB to research their vehicle's value. Usually the seller is pretty excited because those price guides often show pie-in-the-sky retail. Although it's challenging to obtain "retail" when selling your car yourself, assume you can get close to that price. If you are selling a vehicle for over $10,000, most potential buyers require financing in order to make the purchase. Depending upon the credit worthiness of the buyer and the LTV (Loan to Value) of the vehicle, they may only get financed for a percentage of the purchase price which means they have to raise cash for the balance. Lots of moving parts to deal with…
Most used vehicles sold over $10,000 are sold by dealers because they recondition vehicles and provide financing.
Finding a buyer for your $10,000+ car isn't easy and you will kiss a few toads along the way. We recommend AutoTrader.com private seller listings. There are almost 20M visitors each month on AutoTrader.com and that is a lot of potential buyers. But you are competing in the dealer space and there is a lot of inventory to choose from…4.2 million vehicles currently.
Selling your car yourself is not easy, it's a lot of hard work. If you have the time and resources, AutoTrader.com is a great choice. It is important to be realistic with pricing and research what dealers are selling vehicles like yours for before you set the price. Stay below the average price and you may have luck. Most buyers won't pay a premium for a private sale used car when they can go to a dealer and buy a certified pre-owned vehicle for the same price.
Or…
You can sell your car the easy way – call CarBuyerUSA!
CarBuyerUSA.com buys vehicles all over the USA. We pay cash for cars, trucks, & SUVs , in any condition. From Rollovers to Range Rovers, CarBuyerUSA is your car buying source. Call (888) 995-6498 or visit http://www.carbuyerusa.com/contact-us.
Permalink
|
|