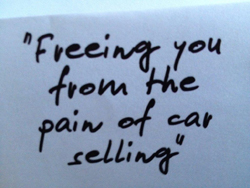 Selling your car is a pain, without question. First you have to decide what the car is worth – seems easy enough, right? You go to kbb.com (Kelley Blue Book) for a value and maybe look on AutoTrader.com for vehicles like yours that are advertised. This is great approach if you are realistic about it but guidebooks don't buy vehicles for cash – they never have and AutoTrader is a classified advertising site for dealers, not so much for private sellers and the prices that you see are "asking" prices- it doesn't mean that cars are selling for the prices that you see online. So once you set an expectation for yourself with a target price, then you have to test it and see how close you can get to it… Here is a quick look at the steps required to sell a car yourself:
Make decision to sell car privately (Weigh value of personal time expended, safety concerns, return)
Establish target price
Select advertising venue (newspaper, website, signage, Social Media, etc)
Clean vehicle in & out
Take several pictures (digital or smart phone)
Write description/ad
List all features/selling points (extended warranty, dealer service records, no accidents, 500W sound system, etc)
Get VIN # for listing
Purchase listing on reputable website (or use the Free site that is worth about what you pay for it)
Wait for something to happen
You have to field phone calls, text messages late at night & emails plus set appointments which are missed and rescheduled. After you take lots of low-ball offers, you decide you have had enough and adjust the price down 10% and wait some more. Still, nothing…
Selling your car yourself turned out to be a whole lot more work than you expected and the you are nowhere close to the KBB price that you expected you would get…
Take the easy route the first time and call carbuyerusa.com. Carbuyerusa.com will buy any car, anywhere regardless of condition. At Carbuyerusa.com we take the pain out of selling your vehicle. In fact, it's so easy you can do it from your couch while you watch the game.
Carbuyerusa.com makes selling your car yourself easy and funds are always guaranteed.
For a great experience and fast & easy transaction, call (888) 995-6498 or visit carbuyerusa.com/contact-us
We take the pain out of selling your car!
Permalink
|
|