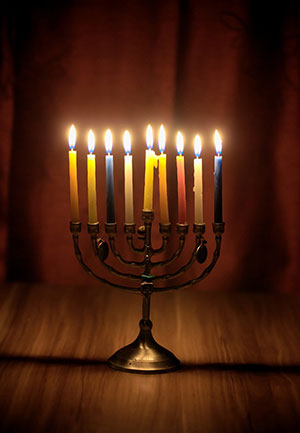 In Judaism faith, Hanukkah 2017 begins tomorrow, December 12, at sunset and ends on December 20 at sundown. For those of you who don't know the meaning of the of the word Hanukkah, it's Hebrew for "dedication", and is the Festival of Lights. It serves as a reminder of the victory of the Maccabees over the Syrian Greek Army, followed by the miracle of rededicating Jerusalem's Holy Temple and restoring its menorah – oil lamp. Hanukkah's miracle is only one vial of oil was found with just enough oil to illuminate the Temple lamp for one day, but it lasted for a full eight days. What's this got to do with selling your damaged car? Keep reading!
Of course, there is much more to this story, and we could write an enormous amount of information here, but I wouldn't dare to claim to be an expert on Hanukkah. My purpose here is to provide a little enlightenment to those unaware and curious on this Jewish Holiday, and let people who want to give a big gift to a loved one there's an opportunity if you're looking to sell your car.
Sure, you may think selling your car is crazy to buy gifts; but maybe taking a little of the cash we buy cars for here at CarBuyerUSA.com, and spending it to get that special someone in your life a special gift is a good idea? A lot of us set holiday spending budgets and I know I'm always looking for creative ways to purchase a special gift that is out of my spending range. Hanukkah 2017 is only a day away and if you fill out our short form with a few details of your damaged car, truck, van, or SUV, or your perfect to gently used vehicle, you can sell your car to us fast, safe, and easy! We pay cash for cars, trucks, & SUVs, in any shape or condition, anywhere in the continental United States. We'll help you make someone's holiday special and we'll come to you to do it.