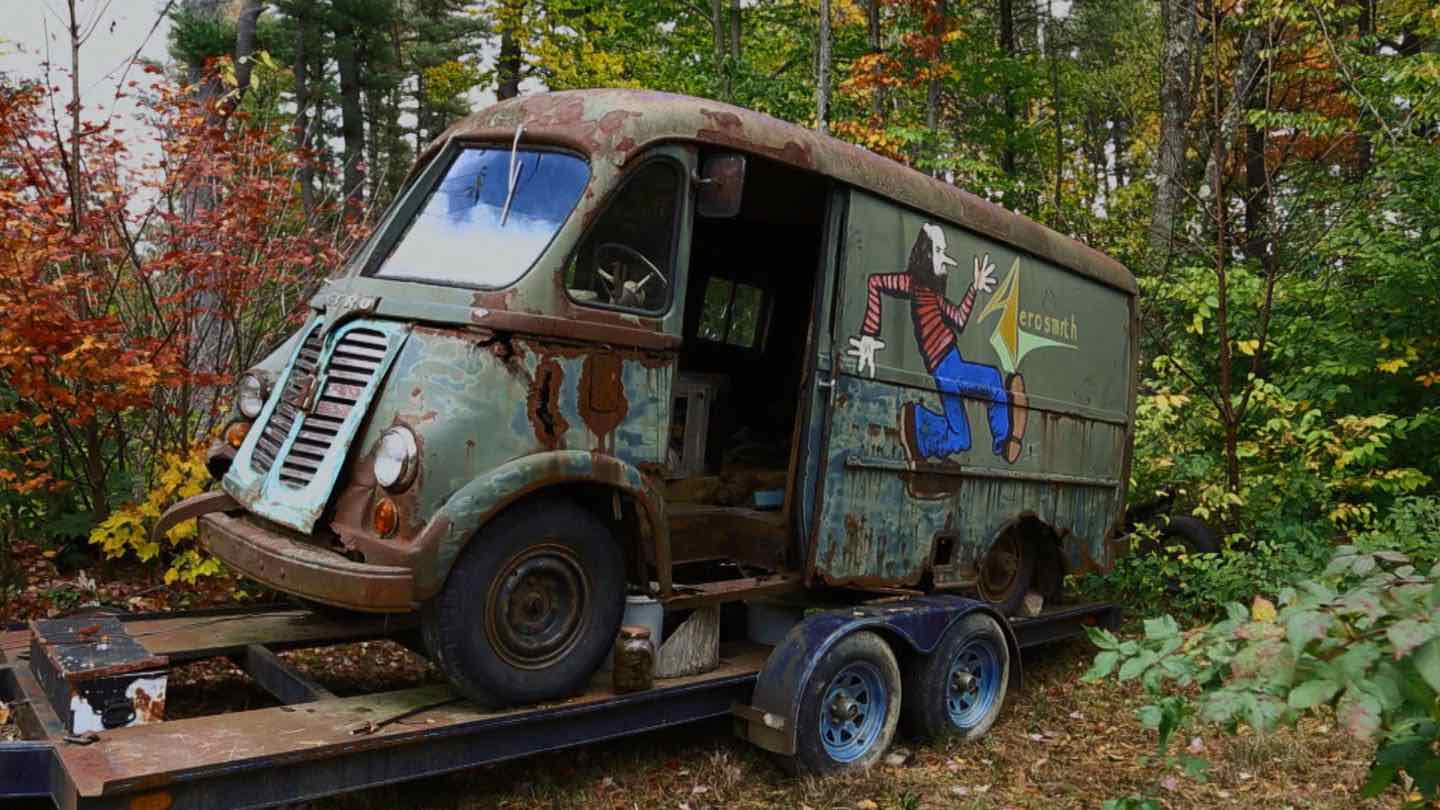 © Image: American Pickers (History Channel)
The History Channel's resent episode of American Pickers' ®, two hosts – Mike Wolfe and Frank Fritz – drive around the U.S. searching barns, land, junkyards, and you name it, buying antiques and "recycling America". On a recent episode while in western Massachusetts, they came up on Aerosmith's original tour van, a 1964 International Harvester Metro Van. What a find the 1964 International Harvester Metro Van is! I'm sure the guys in the band dreamed of making it big rolling down the highway, but to actually become an American Icon? Who says dreams don't come true? Even though we buy cars 2006 and up, I can guarantee you, without hesitation, we would have jumped on this buy! Which btw, you can sell your car quick. Really, we'll even come get this Metro! Go ahead, check out the instant cash offer we'll give you.
It all started, when Joe Perry and Tom Hamilton were in the Jam Band, met up with and joined Steven Tyler, Joe Kramer, and Ray Tabano to form Aerosmith. Tabano's time with the group ended in 1971, when Brad Whitford replaced him. Becoming a Boston favorite put them on the road to hardcore fans and becoming the American Icon they are now. Fast forward to August 2018, and the American Pickers, well, picking.
The find of rock 'n roll history used to by the band to get from one gig to the next, was found near Chesterfield, a small town 100 miles west of Boston. It's still filled with awesomeness even though it's been sitting partially buried in the woods rotting for years. When the land owner purchased the property he'd heard a previous owner had a connection to Aerosmith.
To make a long story short, Wolfe reached out to a The Black Keys band member who sent pictures to Joe Perry who then reached out to Ray Tabano who showed up at the property where the founding member of Aerosmith's van that started it all sat.
Let's hope the $25,000 purchase price for the Metro encourages the History Channels' American Pickers to thoroughly document the restoration and air it for us all. On the chance Aerosmith's original tour van that kicked off music history in the making is going to just sit for a while, we buy cars and AP… you can sell your car quick to us! As is. We strongly and emphatically encourage you to get an instant cash offer so we can bring this machine back to life!
Permalink
|
|