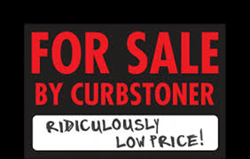 "Curbstoning" is the repeated, unlicensed "flipping" of used cars for profit and is illegal in most cities. What's more, curbstoners put consumers at risk, release unsafe vehicles onto the streets, hurt local businesses, and deny local governments the fees and tax revenue they need to provide essential public services.
Curbstoners buy cars from the public and from salvage auctions that allow the public to participate. They live on Craigslist.com predominantly because it is free and easy to prey on unsuspecting DIY'ers that try to Sell Their Car Online!
While these are all great reasons to boycott your local curbstoner, consumers tend to dismiss all the above in exchange for a few hundred bucks more than trade-in when the liability they incur transacting with these people is insanely huge!
Let me share the story of a consumer that thought she was doing the right thing selling her wrecked car to an individual that insisted he pay cash and didn't want to sign her bill of sale or give his name. The car was subsequently sold three (3) times to all non-licensed car dealers and then wound up at an auction after being fixed, driven by several people that accumulated dozens of red-light tickets and parking violations, etc. She sold the car but had no proof to even get it removed from her insurance policy.
Most curbstoners are illegal aliens, illegitimate business operators and frequently criminals looking to launder money.
Selling Your Car Yourself is not easy, it's usually never free and never without risk. For some unfortunate people, the risk is not financial it is physical and they have gotten robbed, assaulted or worse.
If you want to sell your car yourself, call the Car Buying Professionals at CarBuyerUSA.com. We buy cars in any condition, nationwide and we make it fast & easy. Most importantly, your safety is never compromised and you are never in a position of liability. We buy your car and we transfer the title and provide a purchase agreement to prove who we are.
Sell Your Car the Easy Way, Call CarBuyerUSA.com.
Call (888) 995-6498 or visit http://www.carbuyerusa.com/contact-us