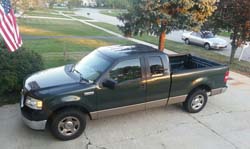 Everyone wants top dollar for their car, but how can you get it? This is not something to think about when you are getting ready to sell your car but something you want to think about the moment you buy your car. Our founder recently penned an article telling you just how you can get the most out of your used vehicle.
Welcome to CarBuyerUSA.com. We pay cash for cars, trucks, & SUVs regardless of condition. Just call 888-995-6498 or visit CarBuyerUSA.com today to speak to a certified CarBuyerUSA.com agent. CarBuyerUSA.com will buy your car regardless of age or condition and get you cash FAST. Just provide the year, make and model to one of our agents and we will get you a FAST, FREE, NO OBLIGATION quote. If we can't make the best offer we will shoot your straight and direct you towards someone who can.
CarBuyerUSA.com is the leading online vehicle-buying agency in the USA. We are unique team of automotive experts that our customers "trust" for a fair price and a safe, easy transaction. Selling your car online is not easy, unless you go with CarBuyerUSA.com. Call (888) 995-6498 for a fast, free no obligation quote.
Save yourself a Saturday or two and call carbuyerusa.com! We make selling your car safe, fast & easy.
Permalink
|
|