By Michael P. Lasini
ATLANTA, Sept. 19, 2013 - - I have been in the automobile industry since I was crawling. In the interest of brevity skip the part about my childhood!
My first real job was spinning wrenches while I was in high school. After getting my degree, I worked for two OEMs, two auction houses and several car dealers. Now I'm my own boss, buying direct from consumers. Our websites serve consumers that want to sell their car quickly and easily, without the waiting room and all the paperwork.
Every day consumers ask me, "How do I get more for my used car?" The simple and honest answer is… "You can't!" There are lots of online sources with tips on how to "present" your car in the best light or "finding the right venue" to sell the vehicle. Taking the right pictures (right angle/light), listing the vehicle with all the features and disclosing all the damage and mechanical issues DOES NOT get you more for your car. It simply increases the chances of finding a buyer that wants the type of vehicle that you have in the condition that your vehicle is in currently. These are SELLING TIPS, they should also include that you should NEVER EVER try to hide anything when selling a vehicle to any party. This makes for an especially bad experience when you sell a vehicle to the public. These buyers come to your residence or place of business – they know where you live!
These are simple strategies to help sell the car. But they don't increase its value! In fact, the only thing you can do to increase the value of a vehicle after years of use and miles is to recondition it yourself.
Grandma had the right idea
If you really want to preserve the value of any vehicle, think of Grandma's couch. Chances are she had plastic covers on the cushions. Those menacing little grand kids she loved with their blow pops and cool aid never stood a chance of staining that couch. If people only took the same approach to their vehicle during the ownership, the effects of use and wear would be minimal.
"MUST DON'TS" for maximizing used car value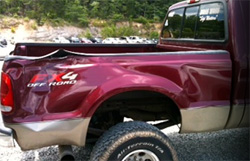 Don't wreck it: that's right folks, nobody wants to buy your wrecked car and CarFax is going to make sure of it! Accident history pretty much guarantees that Kelly Blue Book (KBB) is not in your future – no matter how good the repair. If your car has multiple accidents or structural damage, you are a step above selling a salvage title vehicle literally and your audience is very limited. Accident history usually hurts vehicle value by up to 17%.* Frame/structural damage is nearly twice the impact. Most frame damage vehicles are adjusted downward $1,500-2,500 at the wholesale level.
Don't let it get stolen: lock it up and keep it safe. If your vehicle is stolen and recovered, pray it's a total loss because theft history is another brand that will impact the value negatively. CarFax has made hay with their brand over accidents, flood and theft cars by showing the absolute worst cases with vehicles being crashed or abused then stripped of parts. Theft history amounts to a 10% hit in vehicle value* In addition to the history, 15 states require that if a vehicle is stolen and purchased (paid out) by your insurance company the vehicle MUST have a salvage title brand. This devastates the value as a salvage title vehicle will be worth only 40% of the same vehicle without one*.
Don't smoke in it: not to beat up on our friends that smoke, but there are fewer and fewer of you around these days and many of you don't even smoke in your own car because you don't like the smell of smoke (# truth). A vehicle that has been heavily smoked in is worth 12-15%* less than the same vehicle without smoke odor.
Don't skip the floor mats: Should you spend the $115 for floor mats or destroy the carpet in the vehicle that requires the seats and half the interior parts be removed to replace it? See story above about: Grandma's couch. Floor mats protect your investment.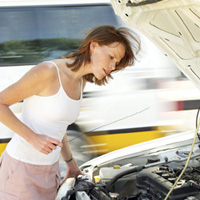 Don't skip maintenance: this means maintain your vehicle religiously. If you can remember 3 things: clean air, clean gas and clean oil, the engine and transmission will last a lot longer than expected and the condition of your vehicle will be better than other vehicles like it when you decide to sell it. Change the oil, the air filter and the gas filter as recommended. Wash and wax the vehicle regularly. The first thing people notice about your vehicle is the paint. If it is dull or the clear coat is peeling, it's a lot of money to restore that factory shine.




KBB Vehicles are not born, they are raised like kids
Common sense escapes us and we don't make time to take care of things that we depend on. Automobiles are machines and machines break down! They will break down unless you maintain them regularly. Everyone wants to buy a really nice, clean vehicle that was owned by a little old lady that never really drove it anywhere but to the grocery store and church on Sunday – right? The truth is… that is about the only type of owner that will produce or "raise" a KBB Grade Used Car. Everybody wants KBB for their vehicle when they want to sell it, but few people "raise" a KBB car. Raising means caring for, protecting, maintaining and keeping it safe and out of harms way. 
Getting your vehicle ready for sale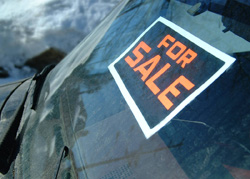 We buy thousands of vehicles from online leads before touching or seeing the car. These purchases are based on seller description and digital images. You would be amazed at how many people don't even wash their vehicle before they send us pictures. We recommend at bare minimum that you pay for a full professional detail. This will run from $100-150 and will include wash, wax, buffing (possibly wet sanding), carpet shampooing and interior and engine bay steaming and detailing. This will be the best money ever spent on the vehicle and will yield the highest return for your dollar. Mechanical repairs should be made if the vehicle is not in good/safe working order but do not enhance the value. A new transmission simply means that it won't break down anytime soon, however, it does not make the same car worth more. Same thing applies for a new engine – in fact a new engine makes people think the car was abused to the point the engine failed. It does not enhance the value at all.
Other enhancements: bumpers that are scratched and scarred from parking lots can be reconditioned. This is a judgment call but can make a significant difference in the sale price. Interiors are very important and if your carpet is worn or heavily stained, replacing the carpet and torn seat covers will go a long way to improving your final sale price.
If you choose to sell it yourself, remember a few things:
You can get more, but it's a lot more work. What is your time worth and how many Saturday's do you want to burn trying to make that extra money?
Pick a good venue to list your car for sale. Some choose the newspaper classifieds, we recommend AutoTrader.com as they have the largest audience available. Stay away from Craigslist.com - it is free and worth every penny you paid…

Safety first

– if it doesn't sound right, it probably isn't. Don't invite people to your home or place of business you don't know. Never meet anyone at a location at their request. Always get their phone number and email address and see if they are who they represent themselves to be. Use social media and the internet to verify their identity. Know who you are talking to before you meet them.
If you don't want to sell the car yourself or trade it in at a dealer, visit www.CarBUYERUSA.com or www.DamageMAX.com and we make it easy for you to sell your car.
About the author
Mr. Lasini is a leading expert on damaged vehicle remarketing and direct to consumer car buying. He spent more than a decade leading commercial sales at Manheim, the world's largest automotive auction company. He was co-founder of Total Resource Auctions, Manheim's salvage auction subsidiary. He served in sales and marketing positions at Nissan North America and well as at several automobile dealerships.
About DamageMAX.com & CarBUYERUSA.com
DamageMAX.com is the leading direct-to-consumer damaged and inoperable car buyer. Sister company CarBuyerUSA.com is the leading B2B and direct to consumer vehicle buyer. Both companies assist consumers that need to quickly sell their vehicle for guaranteed money without visiting a car dealership or even leaving their home. DamageMAX buys cars in any condition, specializing in consumers that don't wish to repair their vehicle after a collision or mechanical failure. CarBuyerUSA buys vehicles directly from consumers, but also serves as the market maker for online vehicle marketplaces that are unable to connect buyer and seller at the market clearing price.
*Derived from whole car and damaged vehicle data. Sources include Manheim MMR, DamageMAX and CarBuyerUSA.