We hate to say it, but for years you may have been making these common mistakes, every driver is guilty of them. Being in this business where we buy cars inherently comes with sharing important information to drivers. We're not here just so we can entice you to get an instant cash offer and sell your car to us. We buy cars for a business but definitely want you to be safe too so we've pulled together a check list of sorts for you on how to fix mistakes you may be making.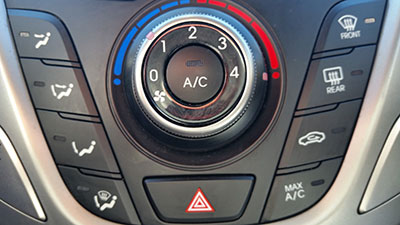 #1
Incorrect Use - Ventilation Recirculation Button Slows Down De-Fogging Windows
In the colder months, don't use this button. It will take longer to de-fog the windows. (For hotter months, using this button will allow your car air conditioner to cool faster.)
#2
Not Engaging the Parking Brake On with Automatics
You may think the parking brake is just for a standard transmission, but think again. Vehicles are heavy and should always be used when parking on a hill to lessen the stress on an automatic transmission. Regardless of the transmission type in your car, it's a good habit to always engage the parking brake.
#3
When In Traffic Not Allowing 3-4 Feet of Space Between You and The Car In Front Of You
You never know when the car in front of you will breakdown and you'll need room to maneuver around. There's also the possibility a driver coming up from behind you may not stop short of your rear bumper. Leaving space may help keep the car in front of you out of the fender bender.
#4
Not Using the Shortcut Buttons Mounted On the Steering-Wheel
These were not invented for convenience, though they really are convenient, but for safety reasons. Just make a conscious effort to make these buttons a go-to habit and an accident is much more unlikely.
#5
Not Checking the Tires
Does this sound like a simple and silly one to list? Think again. It's one of the things people ignore. The law in most states requires tires to have at minimum 2/23 of an inch of tread.
You can check this by placing a penny inside the groove of the treads. Make sure Abraham Lincoln's head is facing you and upside down. If you can see his entire head, you need a new tire(s).
#6
Accepting the Fact and Ignoring You Have a Blind Spot OR Are In A blind Spot!
Drivers OFTEN do not pay attention to this enough or at all. When did so many people stop paying attention to this? I can't tell you how many times a driver has started to ease on over into my lane. There's just one problem with this; my car is in the exact spot he's easing into!
This situation can be a perilous leading to an accident, injury, or worse. Since you really can't put your faith in the other driver, it's up to you to be on the defense and ease back a little or move forward ahead of a driver if you think you may be in their blind spot.
And remember this, you must do MORE than glance at your side view mirrors to insure there is no one in YOUR blind spots.
Final Words
Even if you may have been committing these driving no-no's, it's never too late to make new habits, and healthy ones at that. Being proactively on guard when driving out on the roads is definitely, how to fix mistakes every driver makes. Even if not all of these in our list feel familiar to you, think about them the next time you hit the road. If any of these are happening, it's time for a new habit. And remember, you can get an instant cash offer now by simply filling out our short form and sell your car quick. We buy cars the FAST, SAFE, and EASY way and put FAST CASH in your bank!
Permalink
|
|