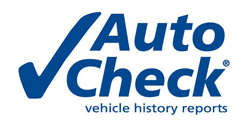 Let's face it folks, selling a car yourself is a chore. If you have a vehicle with accident history, it's a heavy-duty project. The first thing you must remember is that you must disclose all damage to the purchaser. Not doing so leaves YOU in a position of liability and the potential to be sued – even if you are not the one that had the wreck. You cannot hide behind ignorance and statements like "not since I've owned the vehicle" or "as far as I know". If you are UNAWARE you are EXPOSED and you are liable.
Before you sell your vehicle, it makes sense to go to www.autocheck.com or CarFAX and find out what you are selling, before you begin. If the vehicle is clean & there is no accident history - that helps you ask a premium price for the vehicle, so it's probably worth spending a few bucks on a vehicle history report. DamageMAX recommends www.autocheck.com as they are tied closely to the National Auto Auction Assocation and they rarely miss an accident or frame damage.
Note: most dealers will run vehicle history reports for FREE if you stop by and ask them for an appraisal.
If your vehicle has accident history and you did not know, you may have recourse from the individual or the dealer that sold it to you, if it was not properly disclosed. Before you spend money on an attorney, review all the original purchase paperwork, most dealers know and abide by disclosure laws and you probably signed a release/disclosure. If you didn't, take the high road, contact the dealer and set up a time to discuss it. You get a lot more with honey than vinegar and most car dealers would rather make a friend after a mistake like this, than an enemy. Besides, nobody likes to spend money on attorneys & litigation.
So what can you do if you discover your vehicle has accident history?
If you want to sell your car fast with no liability , call CarBuyerusa.com and we will buy your car with ZERO hassle and NO LIABILITY. Your damage disclosure fears are gone because CarBuyerusa.com will not sell your vehicle to an end user - disclosure is our problem not yours.
TRADE the vehicle in at a reputable dealer and take your lumps up front.
Technology and the Age of Information have empowered today's consumer. You can't hide from it or beat the system, the risk is simply not worth the reward. Why sell your car yourself to get a few hundred dollars more when carbuyerusa.com will make it fast, easy and liability free?
Call (888) 995-6498 or visit www.carbuyerusa.com/contact-us for an immediate cash offer.
Permalink
|
|