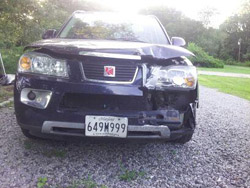 Most people don't know the impact of a salvage title, they may not even know their vehicle has one! In all the excitement of buying a nice used truck, most buyers are more caught-up about the diameter of the wheels and tires or how many inches of lift it has–not the type of title they are getting.
What you need to know about salvage titles is that they decimate the value of the vehicle. There is no amount of discount to make up for what a salvage title does to the value of your vehicle – it simply cannot be recovered on resale. Selling a vehicle with a salvage title is extremely difficult as very few private buyers will buy a salvage title vehicle. CARFAX has convinced the American Public that a vehicle with collision damage is worthless. A salvage title means the vehicle was in an accident and deemed "totally destroyed", there is no story that can be told to change that perception. Vehicles that have been branded with salvage title are usually considered to be a "total losses" by insurance companies, with the cost of repairing or replacing the damage totaling over 75% of the cars' current market value.
Almost all states have different criteria for issuing a salvage title, but most frequently it is due to one of the following reasons:
• Theft
• Total wreckage
• Flood
• Fire / Smoke
• Other damages that can cause the car to be too expensive to repair
If you are selling a salvage title truck or car and not having much luck finding a home for it, please call (888) 995-6498.
CarBuyerUSA.com buys any vehicle, anywhere in any condition. We specialize in valuing salvage, damaged and inoperable trucks and cars.
If you need additional information on salvage titles click here for our free salvage title report.