Imagine, you're driving along just cruising down the road. You're not bothering anyone, there's no road rage to be had for miles and miles away. Then you're rolling up on a traffic light after traffic light and they're all rolling to your tune of green. "Yeah! How 'bout that! Caught all the greens!" No sooner than you did your little strapped tight in your happy seat it happens. The guy from the other direction decided yellow meant step on it and t-boned your driver door. You check and ok and you don't think you have serious injuries, and hopefully neither of you do, but guess what? You were on your way to trade your "there's not a scratch on it" car in on a brand new model. I'm pretty sure once your brain stops rattling around from impact and can focus again, you might just be thinking, "I had a wreck? My car is wrecked! Now what is my car worth! How am I going to trade-in a wrecked car!" It's a good question, how are you going to sell your car damaged? It's it doomed for parting out?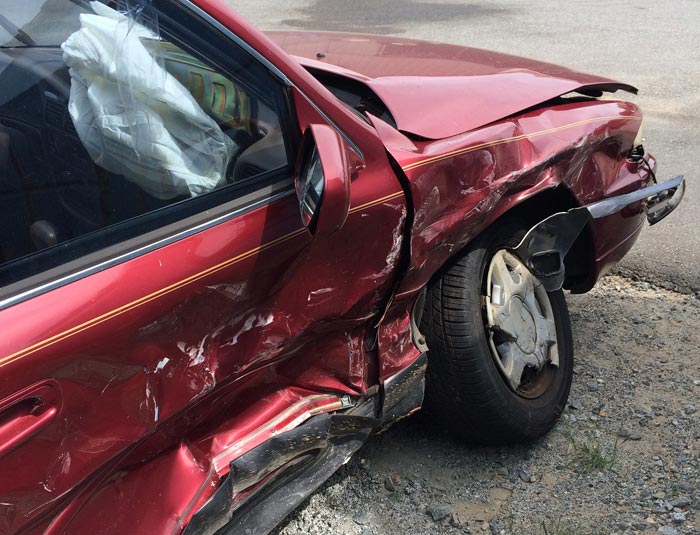 That's a scary moment, right? Yeah, it probably is, but it's not very uncommon. People think yellow stands for pedal to the metal all over this country, in every single town big or small, and it doesn't matter if they are what you'd call a reckless driver or a cautious one. At one time or another I'm pretty sure no one is immune to beating a light. But now what? You know that car dealer went on and on about how your car looked like it did the day it rolled off the lot 5 years ago; and that low mileage, well that increased your car resell value. So what's a guy to do? Tow a t-boned car to the dealership and hope the car salesman doesn't' notice anything odd? I don't think the rest of your day is getting any better. I'm thinking he's might say something like, "how do you expect us to sell a damaged car? The bad news is gonna just keep on coming. I can hear you now, "I'm sorry, what? How much is my car worth to sell now? What? What did you say?" Yeah, it's not a pretty sight. Your car's resell value just plummeted. Like, bad. Severely bad. Except for the car dealership, they just made extra money.
But wait! Yes your car drops in value. But on one bright side, you and the other driver are physically ok. The second bright side, is we buy cars in any condition. That means running well or so bad it barely gets you around the corner from your house, or even ones that don't even get you out of the garage. We even run specials on T-bones like it's a daily sale at the grocery store. Just don't ask for steak sauce. That? That we don't have.
So now that your vehicle has been in a car crash and you're most likely crying over the loss, before you junk it call CarBuyerUSA and let us tell you a number that you'll find is higher than that car salesman offered post car accident. What's more, we'll come to you to pick up and take your bad memory away and leave dancing all the way to the bank. Call 888-995-6498 now and when our friendly live agent answers, just tell them, "I had a wreck! Now how much is my car worth? Will you buy my smashed in car?" There are no surprises here; the agent will definitely say, of course we will! We pay cash for cars, trucks, & SUVs! Then? Then sell your car to us.