In the news again, and autonomous mode vehicle is in a car crash. Earlier in May, Google's self-driving minivan, Waymo's Chrysler Pacifica, was involved in an accident in Chandler, Arizona. As you can see the aftermath below, it looks like it was a brutal incident. We've been hearing and reading a lot about autonomous mode automobiles in the news lately indicating the "hands off the wheel" cars involved in car crashes that make the hairs on the back of our necks stand up; but this time, it seems the autonomous minivan was the victim. For the record, I want to reinforce for you, Arizona and all other residents in the Continental U.S., we buy cars fast in any condition. That means if your vehicle has been in an accident you can get an instant cash offer fast and sell your car quick to us.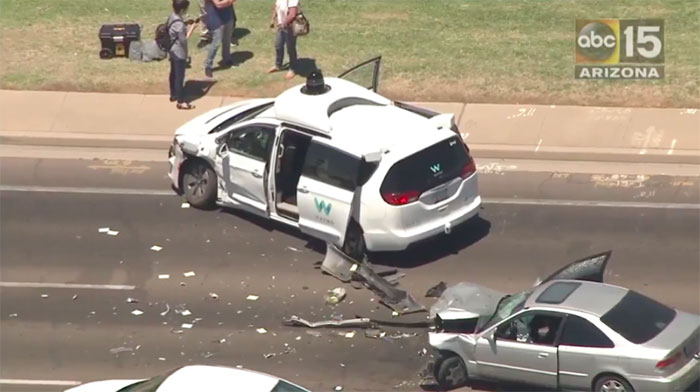 Image Credit - ABC 15 Arizona
Just seven weeks prior, an Uber self-driving car in Arizona hit and killed a pedestrian crossing the road at the corner. This caused some in the industry to bring testing to a halt, but not all followed suit. One might think this reaction to such a tragedy would be a blinking neon sign of sorts to the industry and all would err on the side of caution. If they did, which I'm sure it was seriously weighed and considered, it seems it like a short-lived caution.
With this said, reports state the autonomous car wasn't at fault this time, but what about the "fine print"? Could the driver of the car not at fault have reacted in a way to avoid the accident? That's not only a good question, it's considered in auto accident investigations. We've all had defensive driving drilled into our heads to be alert and ready to react should an unforeseen incident occur. Are autonomous cars programed analyze its environment and to react accordingly and safely? After the earlier deadly accident, you would think adjustments would have been implemented in an effort to be proactive in avoiding accidents.
"We are currently investigating a minor injury collision involving two vehicles, one of which is a Waymo autonomous vehicle. This afternoon around noon a vehicle (Honda sedan) traveling eastbound on Chandler Blvd. had to swerve to avoid striking a vehicle traveling northbound on Los Feliz Dr."

"As the Honda swerved, the vehicle continued eastbound into the westbound lanes of Chandler Blvd. & struck the Waymo vehicle, which was traveling at a slow speed and in autonomous mode."
In defense of Google's autonomous day out, even a human driver with the hands on the wheel can't always react to avoid a car crash; but programs, software, and all technology is written and created for a very specific reason. To make something, not only convenient and the quality of our lives better, but to also make something work pristine without fail. To make a change in how we do things and live. Aside from invading lives to know our habits for marketing and creativity to capture customers, the IoT was created for that very reason.
Of course, in all autonomous vehicles there is someone sitting in the driver's seat to quickly takeover the operation of the car and quickly react if needed, but just as in any dangerous driving situation this person didn't have time to react and sustained minor injuries. For the driver of the other car, hopefully he/she was ok and came out of the car crash unscathed. If the driver doesn't want to go through his/her insurance and accept their replacement value, they could get an instant cash offer from us and sell to us. With that said, no matter what state you live in, you can sell your car quick to us and get cash fast!
Remember, no matter what state you live in or city, town, village, or if in the middle of "nowhere, we buy cars and offer the highest instant cash offer you'll find anywhere else. We will not be beat! Our SAFE, FAST, and EASY short 2-step process form will give you the real number for your car worth and you get cash in the bank fast! Even if it's involve in an autonomous car crash. So, if you have a car, truck, van, or SUV you want to sell, sell your car to quick us!