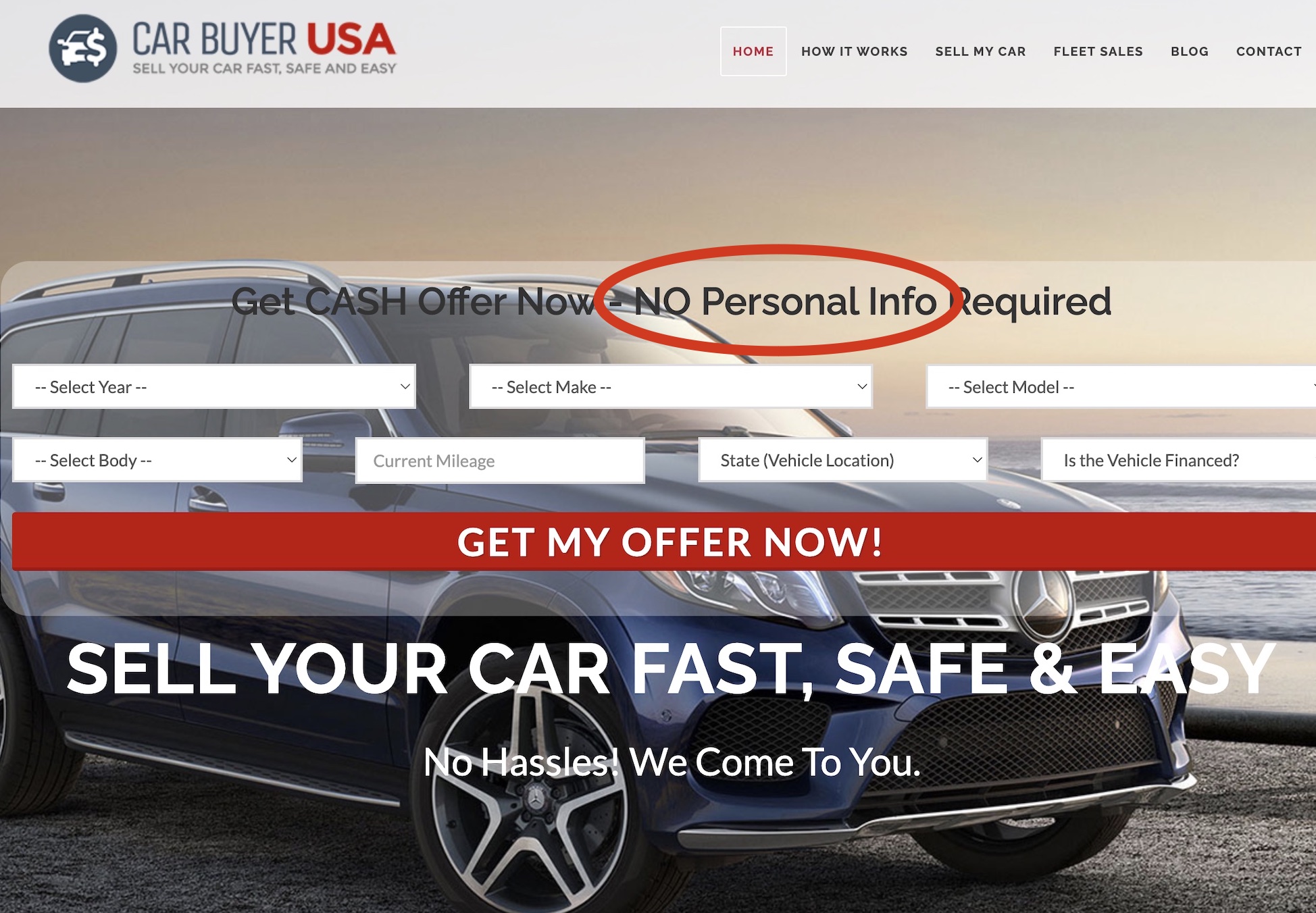 Do you remember when shopping for toys, that most everyone looks for the marking on the box that says 'No Batteries Required' ! Did you know that out of 20 other online companies we researched, CarBuyerUSA is the ONLY ONE that does not require any personal information to obtain your quote to sell your vehicle!
We completed an in depth inquiry of twenty different online platforms who will purchase your vehicle. Every single one of twenty required VIN number, Tag/Plate number, your contact information and some require a current ID and registration upfront, just for you to receive an offer for your vehicle. A few of the platforms claim their process takes just a few minutes to fill out the information, send your offer via email, then require you to bring your vehicle to a nearby hub, dealership or specific location to be inspected.
Most of the twenty platforms paid their sellers by check. A few offered the payment as trade in value or required the seller to take the offer to a participating certified dealer to receive payment, and one offered payments through Zelle.
Car Buyer USA openly shows on our website that we only require Year, Make, Model, Body Style, Mileage, State your vehicle is located and if the vehicle is financed. You are the one to decide if you like the offer you have received and you make the decision to let us know if you want us to contact you for purchase of your vehicle. We take pride in our process and our standards of customer service are what makes us get up in the morning to buy your vehicle. There are multiple team members that strive to make your experience with us as positive as possible. From the first offer to inspection, to our finalizing stage, to our funding team and lastly transport. We are with you every step of the way and constantly in contact with you to guide you. All we ask is to be just as proactive as following the required steps to get your vehicle purchased to get you paid as quickly as possible.
If you have any questions about our process or for a price quote, click here.
Permalink
|
|