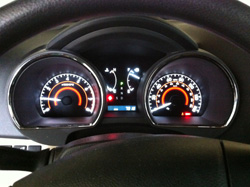 Apparently even the threat of serious jail time is not enough of a deterrent for todays scammers. Technology has made it even easier for thieves and scammers to bilk unsuspecting car buyers our of thousands of dollars. With a hand held tool, a techie can change the odometer display to whatever they want in minutes. What you need to know is that the Engine Control Module (ECM), otherwise know as the vehicles' "black box" will have a record off this event saved forever. It won't know who did it, but it can tell you when it was done.
If your vehicle has an odometer problem and the miles have been rolled back, get ready to take a $2500 hit – perhaps more if it's a late model luxury vehicle. How can you sell a car with a mileage discrepancy? Call Carbuyerusa.com. CarBuyerUSA.com will pay you cash for any vehicle in any condition, and we specialize in odometer fraud vehicle disposal.
Call (888) 995 6548 no for an immediate cash offer on your odometer fraud vehicle.
CarBuyerUSA.com buys ANY CAR, Anywhere. Call us for a free quote and a hassle free transaction.
Permalink
|
|