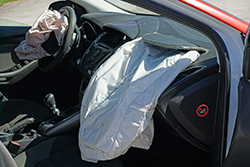 Owner Liability When Selling a Car That Has Finance Obligations
You're driving home from work, sitting in traffic when you look over and it's love at first sight. You've got to have it! So you pull into the dealership and start talking numbers. Your excitement soon turns into "ho hum" when the car salesman tells you what your trade-in value is. Immediately your brain starts firing commands, "There's no way I'm accepting that offer! I still over $1000 more on it! I'll sell my car myself!" But do you know when selling a car privately that has finance obligations attached to it, there's the possibility of liability. Sell your car to Car Buyer USA to avoid headaches liability can bring you.
Liability Headaches
Your local bank has a lien on the car title. To sign the title over to the buyer, both of you may need to go into your bank. They buyer would then pay you and then you could legally sign the car title over to the new owner.
An out-of-state bank has a lien on the car title. To be positive you incur no liability, complete a bill of sale and go to DMV with the buyer. There may be a temporary operating permit form you can fill out as well, so when the buyer legally drives away you hold no liability. Just don't forget to pay off the car loan so a new title can be issued in the new owner's name.
Depending on your DMV state laws, there may be lien release laws you need to follow. Visit your local DMV, or find their official website online.
Ways to Avoid Liability Headaches
Fill out our fast, easy, and safe form to get started.
Call us, We pay cash for cars, trucks, & SUVs running or not.
Sell your car online to Car Buyer USA and have cash in as little as a few days!
With us there is no owner liability when selling a car that has finance obligations. For more details on what we can do for you if you still owe money on your car, check our FAQs. It has the answers to this and other questions.