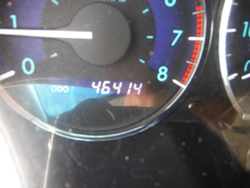 The National Traffic Highway Safety Administration reports that odometer fraud costs American consumers nearly $1 billion per year.
"With odometer rollbacks, the value of the vehicle is artificially inflated so people are losing money by not only paying more for the car than it's worth, but also in the amount of service and repairs that are going to be needed sooner than expected because the car has 50,000-100,000 miles more than the buyer expects," said Chris Basso, spokesman for Carfax, which collects vehicle history information from 34,000 data sources.
"With the advent of the digital odometer, it actually can be easier to rollback a car's mileage," Basso said, "It's as simple as plugging a tool into the car's computer and typing in whatever mileage reading you want that dashboard to say."
It's also a safety concern. These cars with high miles and often multiple mechanical problems that put anyone on the road at risk.
How to Spot Signs Pointing to Odometer Fraud:
• Look at Brake/Gas & Clutch Pedals – may show significant wear & tear that does not match mileage.
• Interior Condition – always look at driver seat, steering wheel and carpet. Heavy wear or a freshly installed seat cover point to a potential problem.
• Exhaust – look at what comes out of the tail pipe after hard acceleration–any smoke (white or black) is a sign of heavy engine wear or impending high dollar repairs.
• Engine compartment – usually will have clues of previous service, also a good gauge of wear and overall condition. Listen for engine noise at idle, any tapping or ticking or knocking is a bad sign. Have someone rev the engine to 3,500 RPM's while you listen to the engine and see if noises develop at higher engine speeds.
Always purchase a vehicle history report before you buy a used car. You can check to see if a vehicle was a total loss or previously stolen for free at https://www.nicb.org/theft_and_fraud_awareness/vincheck. Comprehensive vehicle history reports can be purchased from AutoCheck or CarFax. If you have a vehicle that has an odometer issue and cannot sell your vehicle, CarBuyerUSA.com buys any vehicle, anywhere–regardless of condition.
CarBuyerUSA recommends you research the vehicle, and the selling source. If it's a dealership, check BBB and your local Attorney General for complaint history. Always do a Google Search and look for customer reviews or Blog feedback on the business,. The same holds true for individuals selling a vehicle privately.
For more information please call CarBuyerUSA at (888) 995-6498.
Permalink
|
|