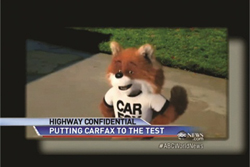 CarFax would have you believe that they are the friend of the consumer. We know different! CarFax is only a friend to themselves because they make hundreds of millions of dollars selling vehicle history reports to consumers, dealers, banks, finance company's insurance companies, etc. If you are in the the business of fixing, selling, buying, repairing, insuring, exporting or recycling automobile's CarFax will find it's way into your wallet. The concept is a good one and nobody expects 100% accuracy all the time, right? Well CarFax will have us all believe that they are infallible and you absolutely cannot live without their vehicle history report or unearthly things will happen to you. Recently there has been a wave of bad press coming CarFax's way, and there is more to come challenging the accuracy of CarFax Reports. Click here for more...
Here are some things to remember about CarFax:
1. CarFax is not 100% accurate
2. CarFax gets vehicle data from very unreliable sources
3. CarFax uses scare tactics to entice you into buying their reports
4. A clean car fax does not improve the value of your car
5. A BAD CarFax DESTROYS the value of your car.
If your car has NO ACCIDENTS, guess what…it's not worth MORE!!! It's only worth what the guidebooks project – hurray! If your car has accident history, you are screwed. Forget you even heard about Kelley Blue Book. If it has more than one accident, you are looking at selling the car for wholesale value at best.
What if your car has a bad CarFax report? Well you won't be trading it in at a dealer. Dealers don't want to have to explain to their customers that they are looking at a car with accident history. Selling a car with a bad CarFax is difficult , even if deeply discounted – nobody wants to buy vehicle with a bad CarFax. You can sell a car with a bad CarFax to CarBuyerUSA.com because we specialize in remarketing vehicles with accident history. While it must be disclosed, CarBuyerUSA.com has the largest audience of problem vehicle buyers and exporters available today. CarBueyrUSA can make your vehicle with a bad CarFax go away – along with your headaches.
If you are selling a car with a bad CarFax, call (888) 995-6498 or visit CarBuyerUSA.com for an immediate cash offer.
Sell your car the easy way, with CarBuyerUSA!
Permalink
|
|