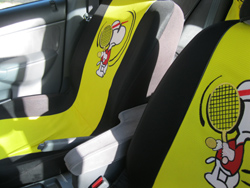 Yes, you can get KBB for your used car. It's easy actually, first, get some really cool seat covers… Peanuts! I mean who doesn't like Snoopy? Snoopy will pull KBB Value for your car! If a potential buyer sees those Snoopy Seat Covers, they are doomed and will have no choice but to pay you KBB Value for your used car, right? WRONG!
Seriously folks…there are very few vehicles out there that will fetch KBB Values from any retail buyer. KBB is a guide that is used to show discount and make the seller & buyer feel better about the transaction. Most people want KBB value for the car they are selling but are quick to admit that they wouldn't pay KBB for one.
Here are 10 Things You Need to even get close to KBB Value for a used car:
1. Your car better be from Asia or Germany or you have no shot
2. It must be in absolutely PRISTINE condition
3. It must have ridiculously low mileage
4. It NEVER was in an accident – not even with a shopping cart
5. NEVER smoked in – ever!
6. NEVER parked at a shopping mall, grocery store or bowling alley – that means 100% ding free
7. ALWAYS garaged
8. Never in the SNOW or worse yet – SALT which means its a sunbelt only car
9. 100% of all factory maintenance was performed and you have all records to prove it
10. Never driven hard or abused
Cars that are sold for premium retail value are indeed very well taken care of and usually babied so condition and mileage are everything.
If it sells good new, it will sell good used but just because they sold a lot of them doesn't mean it retains value. Example: A Honda Accord will hold it's value a lot better than a Ford Taurus or Chevrolet Malibu. So if you have a used car to sell, take a look at the list above and see how your used car stacks up. If you are selling a car that's less than perfect, call CarBuyerUSA.com and we'll make you a decent offer.
We buy cars for cash and our prices are fair and our service is excellent.
Call (888) 995-6498 or visit http://www.carbuyerusa.com/contact-us
Permalink
|
|