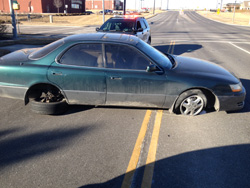 So you can't sell your car because of a bad CARFAX that shows an accident? But wait…you didn't have an accident, ever but you are the second owner of the vehicle and it had 20,000 miles on it when you bought it. You remember the dealer showed you it had no accident history, he had a report that he showed you but now it shows that the previous owner wrecked the vehicle? Tough luck for you, the vehicle is "damaged goods" literally. No dealer will want to trade it and nobody wants to buy a vehicle that has been in an accident – it's a tough sell. Is CARFAX always accurate? The answer is NO, in fact CARFAX may be only 90% accurate… Sometimes accident reports come in after the vehicle may have been purchased, repaired and then resold. There are also data reporting sources that CARFAX uses that are not so reliable that create mileage discrepancies quite frequently.
Recently CARFAX is under siege in a class action suit with 500+ Automobile Dealers that seek compensation for predatory pricing. We are certain that CARFAX will take heat for the negative marketing campaigns and scare tactics used to entice consumers to buy their vehicle history reports. We will have to see how the suit plays out but it certainly is gaining steam in the media.
If you have a vehicle with a Bad CARFAX and you can't sell it, call CarBuyerUSA.com. We specialize in vehicles with accident history, Frame/structural damage and mileage discrepancies. CarBuyerUSA.com has the worlds largest audience of buyers for their difficult to market automobiles at it's fingertips and We pay cash for cars, trucks, & SUVs, regardless of accident history. Our sister division DamageMAX.com buys cars with collision damage, so we really are the problem vehicle team!
Call (888) 995-6498 or visit http://www.carbuyerusa.com/contact-us.
Sell Your Car the Easy Way, Call CarBuyerUSA!
Permalink
|
|