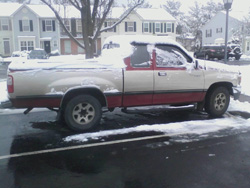 Nearly 1 percent of all vehicles in the used car market top 200,000 miles.
Three cars, the Honda Accord, Subaru Legacy and Toyota Avalon, cracked the top 20 most used cars sold with over 200,000 miles.
Why do trucks and full-sized SUVs dominate the longest running vehicle list?
Theories abound such as trucks are made to haul more weight and have correspondingly stronger parts; they're less complicated and easier to service, leading to more frequent and comparatively inexpensive repairs; the expectations of a truck are different, more functional, than that of a car, so owners care less about creature comforts or aesthetic considerations. They're also subject to more work-like regular maintenance. These vehicles may be more likely to be driven to death than traded in, or sold and bought again and again on the resale market. Family haulers are likely to get passed on or do double duty in advanced age as a work beater.
Another theory holds that replacement parts on other vehicles are worth more than the car, making it logical to junk a ubiquitous sedan for the parts. Honda Accord parts, for example, can be used to repair so many other Accords or other midsized sedans.
If we were to exclude SUVs and trucks after the aforementioned 3 sedans, the highest percentage of used cars with over 200,000 miles would be the Honda Odyssey, Nissan Maxima, Toyota Camry, Ford Taurus, Honda Civic, Acura TL and the Subaru Outback.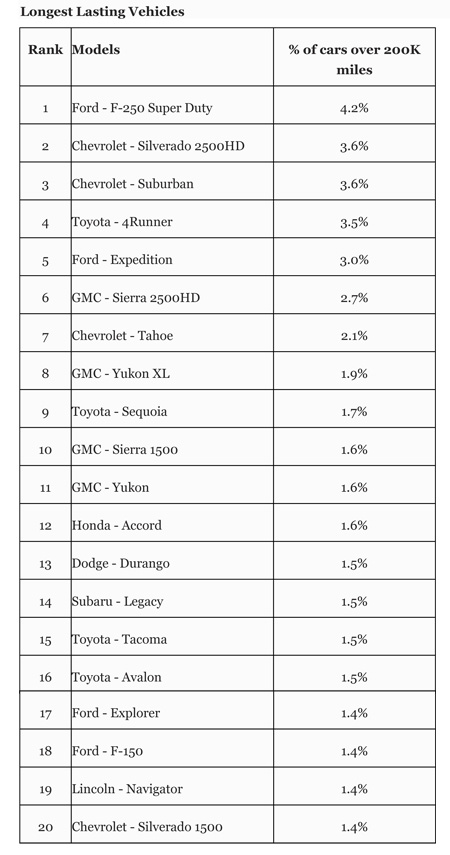 If you have a high mileage vehicle to sell, call CarBuyerUSA.com. At CarBuyerUSA, we pay top dollar for high mileage vehicles, especially if they are well maintained. For an immediate cash offer on your high mileage used vehicle, call (888) 995-6498.
Permalink
|
|