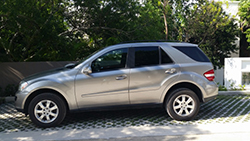 Vehicle owner had moved to Cancun Mexico and started experiencing problems with her ML350. There was not a repair facility capable of fixing her vehicle or properly diagnosing the problem.
She couldn't sell the vehicle locally because it was registered in Florida.
CarbuyerUSA worked it out where she could ship the car to the port in Miami and pick it up from there.
CarbuyerUSA can work through virtually any situation you can think of. Give us a call and let us work out a solution to your complex situation.
Permalink
|
|