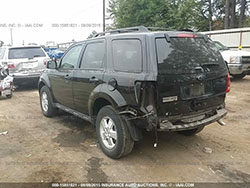 Customer was rear ended by another driver. Vehicle was towed to a salvage auction for appraisal and estimate. At fault parties insurance company decided the vehicle was totaled and sent her a check for a total loss payment.
BAD NEWS!
Customer was immediately informed that at fault parties insurance policy had lapsed and stop paid the check she was issued for payment. Salvage auction towed her vehicle back to her house and dropped it off in her driveway.
Now what to do??
Since the owner only had liability insurance she could not afford to fix the vehicle and called CarbuyerUSA to see if we could help.
CarbuyerUSA was able to buy her vehicle but the important thing to remember is, don't trust insurance companies are going to do the right thing. They will find a way to get out of paying a claim if they can.
Make sure to document and consult with a Lawyer before laying down and taking what they offer.
Contact our sister company CrashCalculator.com and let our experts walk you through the best options for your situation and possibly help recover diminished value on your vehicle as well.
Permalink
|
|