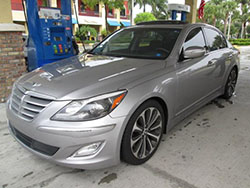 Sell Both Of Your 2012 HYUNDAI GENESIS V8 4D SEDAN R-SPEC's in JUPITER, FL 33458
Customer had 2 identical cars, 1 leased and 1 was owned. He was moving to Chicago where he wouldn't need a car anymore and was stuck in a lease on one of the vehicles. The local dealer was only interested in 1 of the cars which would not solve the problem of getting rid of both quickly. Both cars had a loan balance but CarbuyerUSA was able to combine the 2 deals and with the equity in 1 was able to payoff the lease and purchase both cars at the same time.
If you have a special situation, our buyers are experts in finding a solution. Call us today and let untangle the headache of selling you vehicle so you can concentrate on what is most important, your sanity.
Permalink
|
|