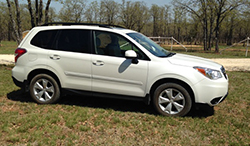 Sell Your 2014 Subaru Forester 2.5 i premium in Nocona, TX 76255
Purchased this super clean 2014 Forester from Charlotte the same day that she called. She was able to drive the vehicle to our closest facility and complete the transaction.
For a safe, secure and fast quote, call CarBuyerUSA.com we are licensed, bonded, insured and we will come to you with guaranteed funds.