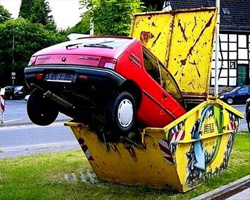 If you are planning to sell your car yourself, ask yourself some quick questions before you make any moves:
1. Are you selling a problem vehicle? Be honest…maybe there are no current issues, its just costing you a lot and you don't want to "roll the dice" and risk more big repair bills. Time to unload it, right? Hello – you are selling a problem car. You are making your problem someone else's and putting yourself in a bad position. Don't do this privately, it's unethical and it could come back to bite you.
2. Are you looking to raise cash quickly? Selling your car yourself takes several weeks if you go the route of advertising it on sites like auto trader.com, or cars.com. Stay away from Craigslist, unless you want to be taken advantage of or have your time wasted with low ball offers.
3. What is your time worth? You can sell your car with a single call to CarBuyerUSA.com. How much more can you get by selling your car privately? Does it make sense for you to spend that time selling your car or making more money on the job or spending time with family and friends.
4. Would you risk your own safety, or that of loved ones for a few extra bucks in your pocket?
The world is a big place and the internet makes it even bigger. There are unscrupulous people that prey upon the DIY'er (do-it-yourselfer) and they frequent sites like Craigslist and others trying to dupe you.
It doesn't matter what kind of vehicle you have, or what condition it's in, CarBuyerUSA will pay cash for your car or truck.
CarBuyerUSA will buy any vehicle, anywhere, in any condition.
• Funds are guaranteed
• It's fast – takes only 5 minutes to sell your car
• It's easy – single phone call gets it done
• It's safe – you deal with professional & courteous staff
• Transportation is free – we will come get the vehicle at no cost
We are car experts people, we know how to buy them. You can sell your car yourself, just do it the easy way – call CarBuyerUSA!
Call (888) 995) 6498 or visit http://www.carbuyerusa.com/contact-us.
Permalink
|
|