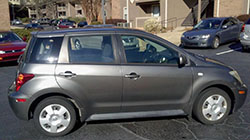 We just purchased this 2004 Scion Xa with 91,000 miles for $3,150 in Atlanta.
The vehicle was delivered to our Roswell, GA Location:
1175 Grimes Bridge Road
Roswell, GA 30075
Our happy seller just graduated from Medical School here in Atlanta and is on his way to residency in Winnepeg, CA. Best of luck to Jeffrey and the Winnepeg Jets (formerly Atlanta Thrashers).
Permalink
|
|