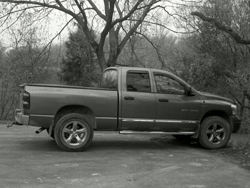 Your workhorse truck just crossed 100K on the odometer and the repair bills were more than the fuel bills last month. You passed on that low-ball dealer trade-in value when you got the new one and decided to keep old faithful around a little bit longer. Now you decide it's time to cash out before the next trip to the dealer for a 4 figure donation! Who can you sell your truck to? It's still pretty solid but you really don't want to pass it on to a family member or a friend because your just not sure what will go wrong next. You just want it to go away without all the pain of having to sell it yourself. Do you have another option? The answer is YES! CarBuyerUSA.com is your option. CarBuyerUSA.com buys trucks all over the USA in any condition. If your truck is 2004 or newer, CarBuyerUSA.com will pay Top Dollar for it and come get it today. Don't sell a problem truck to someone else so it can come back to haunt you, sell it to CarBuyerUSA.com and we will get you cash and you can keep your peace of mind.
CaBuyerUSA.com specializes in problem trucks or difficult to sell trucks that may not be what the general public is looking for so call CarBuyerUSA.com today for an immediate cash offer. All of our transactions are fast and secure and we buy every vehicle "as-is" so your problems go away when the vehicle leaves your driveway.
Call (888) 995-6498 or visit www.carbuyerusa.com Sell Your Truck the Easy Way, with CarBuyerUSA!
Permalink
|
|