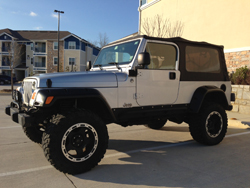 If you have a car or truck to sell, chances are you need to get the most out of it even if it's not in the best shape. If your vehicle has accident history, its gonna be really tough to find someone that is willing to pay a premium and you will most likely have to discount the vehicle a bunch to make it go away. Add-in things like excess wear and tear and un-repaired damage and your audience keeps shrinking. Advertising that car or truck on AutoTrader is going to take time and money and you may not find that special person that wants the car or truck you are trying to sell anytime soon.
If you really want to sell your truck yourself, then call carbuyerusa.com and SELL it fast! Don't advertise it on AutoTrader or Craigslist.com hoping to find a match for your car or truck. Selling your car yourself means it goes away fast and you get paid. Selling your car yourself should be easy, and it is if you call carbuyerusa.com. Carbuyerusa.com will make you a guaranteed cash offer in minutes and come pick up your car or truck and be out of your hair. No missed appointments, no text messages at 1am, no voicemails to comb through on Saturday or Sunday morning, no BS excuses.
Here's how it works:
Call (888) 995-6498
Tells us about your vehicle
Send a few pictures
We will make an on-the-spot offer
Get paid with guaranteed funds
Transportation is on us!
CarBuyerUSA.com is the fastest growing consumer-direct vehicle buying service nationwide. Call (888) 995-6498 or visit carbuyerusa.com today!
Permalink
|
|