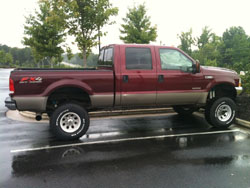 You decided you can get more for your truck if you sell it by yourself. You never sold a vehicle before but "how difficult could it be?"
Take a look at some of the things you will have to handle once you get beyond the easy stuff, like taking all the pictures and building the ad description and deciding how you would like to converse with interested buyers.
Negotiating the price – why is your vehicle worth more than anyone else's? Maintained? Garage kept? No accidents? Be prepared to back up what you present – the buyer will want receipts for everything or you lose your leverage.
Transferring ownership – where do you sign the title? What do you include? The buyers name? Mileage? Date of sale? What if it requires notarization? One small mistake on your title and the deal is null and void because the title is non-negotiable.
Protecting yourself – Fraud, Liability and personal safety must come first. Should people come to your home? Should you meet at a neutral location? This is a very dangerous stage in the sale if you don't know where the buyer is coming from or who they are…
Handing over the keys – Insurance must be canceled and proper documentation must be made to prove the vehicle was legally conveyed to another party or you will be held liable in the event of an accident.
Selling your truck won't be easy and if it's your first rodeo can be a bit intimidating. If you need help selling your car fast, call CarBuyerUSA.com.
We can make it fast, easy and a great experience.
You can reach one of our live buyers at (888) 995-6498 or visit us at http://www.carbuyerusa.com/contact-us.
Permalink
|
|