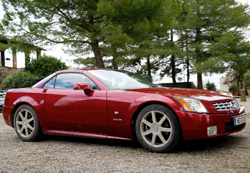 Being the owner of a car buying company I am guaranteed of two things:
1. Life is never boring
2.You thought you heard it all-until today
Today's story is about an 80 year old man that lives in Nashville, TN. He contacted CarBuyerUSA.com to sell us a 2005 Cadillac XLR with only 32,000 miles on it, but (and there is always a but) it is a Lemon Law Buyback. This gentlemen purchased the car after it was bought back under Oregon Law for being a Lemon. Sometimes Lemons are really Lemons, other times people just find a reason to get out of the vehicle. Things like "wind noise", "water leaks" and "tire noise" really aren't issues that are a big deal once repaired. However, this vehicle had massive electrical problems and had almost the entire electronic system replaced. This is not a vehicle any dealer or consumer would consider buying, even at a huge discount. Book value is $25,000 for a clean, issue-free version of this car and the seller believes it's worth $25,000 – because the book says it is... Needless to say, we were unable to come to terms on the purchase and the seller posted the vehicle on Craiglist.com and got an interested shopper. We know this because the seller actually called us back to advise us that a man named Jose Raph would be paying the full price in cash for the car and wanted to make sure the seller had the car and the title in his possession. The seller, Joe wanted to know if we thought it was safe for him to transact with this individual.
Well…..
Let's see we have an 80 year old man, living alone in a condo complex in a rural area and wants to be paid in cash because he doesn't trust anyone to give him a check that can be canceled.
Our answer was no, it is not safe.
A – You are vulnerable physically
B – If it sounds to good to be true–it usually is…
Selling your car is not easy, and it's not always safe. If your husband is an MMA Fighter part time and FBI Agent Full-time, safety is never a concern, but for this person, selling a car privately was not a smart decision. If you or someone you know or love is thinking about selling a car themselves, think about their situation and assess the risk before you let them take on the task of selling a vehicle privately. Safe, Fast and Easy should be the way you choose.
Sell your car the easy way, with CarBuyerUSA.com.
For more information or a fast, no obligation cash offer on your vehicle please call (888) 995-6498
Permalink
|
|