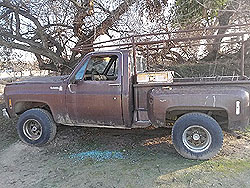 We don't take people's inventory and we are not here to preach, witness or make you cry. We look at this as a business decision, not as one from the heart. You can always donate money, which charities appreciate a lot more than an automobile or "stuff" that has to be converted to cash. I have worked with many charities, some good, some not so good and they always want your money, as in "dead presidents". Giving them an old ottoman or some obsolete television really doesn't help them, in fact it probably costs them more to sort and dispose of the usable (re-sellable) merchandise than the value of the goods themselves.
Not every charity can process a vehicle and converting it into cash involves a lot of touches.
There are fees on top of fees associated with the disposal of your vehicle:
• Recovery – tow fee
• Clean & detail – fee
• Safety check / reconditioning - fee
• Auction – sale fee
• Auction – buy fee
• Compliance – tax docs, reporting – fee
Rules for donating a vehicle:
1. If it's older than 2000 – scrap it yourself and write the check to the charitable concern. Chances are the proceeds from the sale won't cover the tow and the auction fees. Congratulations! You just gave your car to a towing company and a multi-billion dollar auction house. The good one's won't invoice the charity, they will wash it out and you will still get your tax receipt for $500 which is the federal minimum deduction. But be aware that not even a penny from the sale of your car made it to the charity.
2. For 2001 & newer – look at the book value (Not Kelly Blue Book), use NADA Trade-in value (www.nada.com). If the vehicle is worth more than $500 then sell the car yourself and donate the money. There are two ways to sell a car yourself:
• Advertise it online, take the calls and do all the work
• Call CarBuyerUSA.com and we will buy it for cash and pick it up for free
3. If the vehicle is a later model (2004 & Newer) damaged vehicle, it could be worth several hundred to several thousand dollars. For a free quote and guaranteed cash offer call DamageMAX.com. Towing is free and funds are guaranteed. They will even pay to get it out of storage.
Donating comes from the heart and your generosity should go to helping the cause of your choice. Make an educated donation by understanding what will happen to your donated item and how it will affect the proceeds that are passed on to the charitable concern.
For more information regarding auto donations please call CarBuyerUSA at (888) 995-6498.
Permalink
|
|