Ok, so I was reading the latest news on cars and came across Sir Elton John 's Aston Martin Vantage is going up for sale on February 24th. Why would this catch my attention? After all, I could NEVER afford this sucker! One, I love Elton John; he's a displaced American Icon for me… he should be an American native! Two, I love cars. Three, it's a friggin' Aston Martin anything! Four, curiosity is killing this cat. We buy cars, so would we buy this car? If you have a very special car older than a 2006, don't you want to know if you'd be wasting your time? My money is on you can sell your car, Sir EJ stylin' kinda car even if it's older than a 2006 right here.
My curiosity has gotten the better of me, so I'm going to do a little experiment... a little mystery shopping with CarBuyerUSA.com. This will be a two-fold! You know, "I'm going to sell my car" and get superior customer service to boot! They're either going to, one, want to kill me, or two, want to jump on a 1997 Aston Martin Vantage, or three, tell me, "We're sorry, but only 2006 and up please." Or, four, want to kill me. Regardless I'll get their top notch, friendly customer service. brb…

Me at 1:16pm: "I have 1997 Aston Martin Vantage in better than excellent condition. I see you only have 2006 and up. Does this mean you do not ever buy older cars?"
CBU at 1:17pm: "We typically don't but we make exceptions here and there. What's your name and number where I can send the info to?"
Me: "I'm not ready to go that far yet. I have more questions first ok?
CBU: "Sure! How can I help you?"
Me: "For a car like mine how would you make me an offer I know is right? How do you decided how much? I can send you pictures to show you it's in perfect condition"
CBU: "We would get the vin number and car info to determine what kind of valuation to give you. We typically don't buy cars like this. My owner has some contacts that will be able to make an offer for you."
Me: "How do I get the contacts?"
CBU: "The owner. I can get him to contact you if you would like. He would be able to get you more info on what options you have. His name is Mike."
Me: "Can I have a number to call him?"
CBU: "I can't give out his number. But you can call me (770) 771-9178."
Me: "But I want to talk to Mike since he's the one that can give me the info I need."
Me: "Will he get on your phone?"
CBU: "I understand. I'm not sure if he is available to talk but if you called me I would give your info to him."
Me: "Can I get your office's direct number?"
Me: "I see your number on your website. If I call that number will it go to a call center or reception?"
CBU: "He just walked into the office. I showed him the chat. He said he will make you an offer."
CBU: "You can send pics and the vin number here."
Me: I sent three pics and "I don't have the vin handy right now. I will send it soon."
CBU: "Thank you! I'll give these pics to Mike."
Onsite chat ended at 1:24pm. That's what I call being attentive to the customer's needs!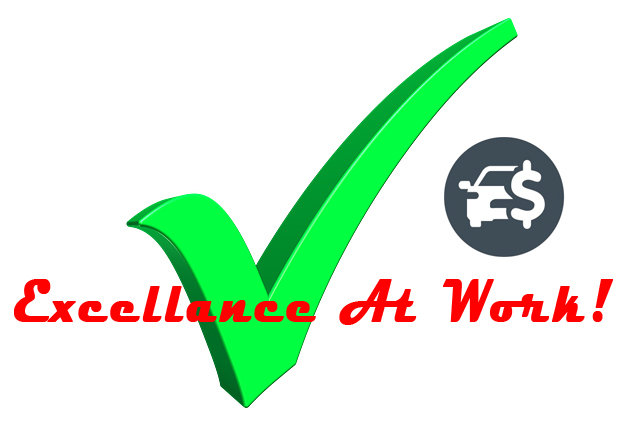 Well, I immediately sent Mike a text that it was me researching for a post on their fantastic customer service and process. LOL, I haven't heard back yet so I'm hoping he read it! A 1997 Aston Martin Vantage can get anyone excited!
What's the point of this? It's to prove to you, honestly, that when CarBuyerUSA.com says "We buy cars" they're the best at it at from, "Hello, how may I help you?" all the way to "Thank you for your business!"
It's a no brainer that customer service is important to have a successful business. What you don't know is how big I am on it, but I'll rant about that later. What I will say is, if a company offers a service or product for a $1,000.00 or $0.01, they better make dang sure their customer service is primo. They set their price, not me. I set my expectations not based on the cost, instead, based on my sweat to make the money I choose pay them. It's a privilege to get my business; not a privilege for me to spend my money at a business and their customer service better show me they're happy I chose them.
Car Buyer USA passed my we buy cars customer service mystery shopping test today, Jessica rocks! She was quick, very polite, knowledgeable, and it was clear she was there to help me sell my car. That means, you can be confident when you sell your car to CBU that not only will you get an instant cash offer, but fantastic customer service! LOL, even though it was Sir Elton John's Aston Martin Vantage for sale and not mine, Jessica hit the ball out of the park. However, if the car gods want to be nice to me, they can knock on my door anytime now. They don't even need to wait for me to answer. A bag holding the keys to my new Bugatti hanging on the doorknob will do just fine. Really. Nothin' but love here for a knock and running. (btw, I heard back from Mike and it seems he's pleased with my research!)
Permalink
|
|