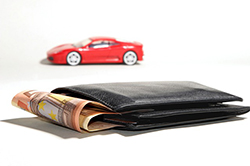 What are total loss thresholds and how are they different from the total loss formula? What is a total loss formula? Does it matter what state you live in for one or the other to be used in determining the value of a damaged car and if it will be declared a total loss by an insurance carrier? Can you sell your car if it's totaled or are you stuck with the dollar amount your insurance company puts on your vehicle? What about actual cash value; what's that all about?
First, let's cover what total loss is and how it applies to your vehicle insurance. When a car is in an accident and incurs serious damages, the repair costs can add up to more than the actual cash value its worth. When this happens, the insurance carrier will choose the road that saves them the most money. They don't want to spend more money to repair a car than its value so they declare it a total loss – totaled car – and send you a check to replace the vehicle. But guess what? You can decide a different route to take and get more money for your non-drivable, dead, all she wrote, lifeless, hunk of twisted metal, pile of heap, damaged car. You know why? Because we buy cars in any condition in any Continental U.S. state all year long and pay you top dollar for it.
Total Loss Thresholds
Every vehicle will need collision, comprehensive, or property damage liability (PD) insurance policy coverage; and PD coverage is mandatory in every state. Usually the non-fault driver files a PD claim against the negligent driver's insurance; however, the non-fault driver can submit a collision claim with his or her own insurance carrier because collision coverage covers you whether it's your fault or not.
Once a claim is filed an insurance claims adjuster will inspect your damaged car to assess what repairs are required and make a determination if it's repairable or a total loss. Using your state laws and insurance company's guidelines, if the claims adjuster determines your car will cost more to repair than its worth, or actual cash value, he/she will declare it totaled then subsequently your insurance company will alert the Department of Motor Vehicles your car is non-repairable and submit for a salvage title.
Total Loss Formula
Total Loss Formula is an industry wide formula used by insurance companies to determine if repair costs to your damaged car exceeds its value. There are no state laws in place setting a capped percentage of its value the insurance carrier must use as a limit before declaring it a total loss.
Does It Matter What State You Live In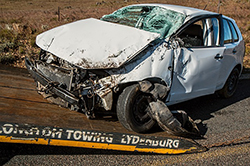 Absolutely, you bet it does.
It's not always a simple checklist of items to use in the determination. There are rules and regulations, some limits for some states, and no set threshold limits in states. Some states use the industry standard Total Loss Formula (TLF) and others have laws in place making mandatory Total Loss Thresholds (TLT) the rule.
Total Loss Threshold States versus TLF States
| | | | | | |
| --- | --- | --- | --- | --- | --- |
| State | Threshold | State | Threshold | State | Threshold |
| | 75% | | 75% | | TLF |
| | TLF | | TLF | | 60% |
| | TLF | | 75% | | 80% |
| | 70% | | TLF | | TLF |
| | TLF | | 75% | | TLF |
| | 100% | | 70% | | 75% |
| | TLF | | 70% | | TLF |
| | TLF | | 80% | | 75% |
| | 80% | | TLF | | 100% |
| | TLF | | 75% | | TLF |
| | TLF | | 65% | | TLF |
| | TLF | | 75% | | 75% |
| | TLF | | TLF | | TLF |
| | 70% | | TLF | | 75% |
| | 50% | | 75% | | 70% |
| | 75% | | 75% | | 75% |
| | 75% | | 75% | | |
As you can see in the list above of all states, some use the TLF and others use a TLT to determine if a vehicles damage repairs against the actual cash value of the car. A certain percentage of a damaged car's value needs to be exceeded for it to be declared a total loss and determined to be totaled. The other states have no set capped percentage so the insurance company can freely use the TLF. That means a lower value and a check worth less money that they send you to replace the totaled car. Guess what, there's good news for you. You can buy back your totaled car from your insurance carrier, get the actual cash value for it from them, then turn around and sell it for more cash to CarBuyerUSA. We buy cars and specialize in damaged cars, and those that are a total loss. You don't need to worry about getting lowballed by your insurance carrier because with us, you end up with more money than they wanted you to settle for. It doesn't matter that Total Loss Thresholds vary by state, you can sell your car to us and get the highest actual cash value you will find anywhere online! Start by providing us a few of your car's details in our short form and get the ball rolling. We want to buy your damaged car today and will contact you fast! Before you know it, you'll have cash hard cold cash in the bank and we'll be towing your hunk of twisted metal away!
Permalink
|
|