We buy cars fast in every city in every Continental U.S, state, aaand we BEAT ANY CARVANA OFFER, aaand WE COME TO YOU with our HANDS OFF SERVICE! If you want more for your car, truck, van, or SUV, and you're ready to sell your car quick; then you're in the right place to sell it fast, safe, and easy and have it picked up all from your couch. It's easy to get a high cash offer, you just need to provide us a few details about your vehicle. How? Well, watch our 30-second video to see how it works and then fill out our short form. You'll see your quote in around 20-seconds. BTW, we will beat any Vroom offer too.
Another BTW, Carvana states on their website they'll pick up your vehicle, but you're going to read about the catch below. See the image right here? It clearly states, "Either way, we'll pick it up!"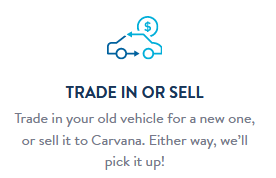 Sure, Carvana is much bigger than we are, but what does that really mean? Let's take a look at some information about Carvana.
Established in 2012. Straight from Wikipedia:



"Carvana was founded by Ernest Garcia III, Ryan Keeton and Ben Huston in 2012, as a subsidiary of used car retailer and finance company DriveTime, and was spun off in 2014. Drivetime is owned by Ernest Garcia II, a convicted felon on bank fraud charges, who became Carvana's largest shareholder."



2013 – Carvana officially opened their first car vending machine location.


2015 – opened a fully automated version in Nashville, TN, of the signature vending machine.


April 2017, New York Stock Exchange (CVNA) – went public and started trading


2019 Reported Earnings
Gross – $3,940,000
Net – $365,000,000


Whoa! But… what about this information? Forbes Staff Writer, Nathan Vardi, shared some very interesting details about a man who has played an intricate role in Carvana in his December 18, 2017, article.
Sell Your Car, Truck, Van, SUV – No Trade-In
Car Buyer USA has never been involved in anything close to the behaviors of those mentioned in the above article. You get a high cash offer from us in about 20-seconds, and we Buy Cars in every Continental U.S. state FAST, SAFE, and EASY. We come to you with our hands off service.
Carvana definitely buys vehicles too and after taking a look at the information of their website, all indications, are if all goes well they pay you on the spot too. HOWEVER, and this is a HUGE HOWEVER, if you live in, let's say, Billings, Montana, you're going to need to drive your vehicle to their closest vending machine for them to pick it up. Using their map, eat an early breakfast, pack a lunch and a dinner, and leave your house in the wee hours of the morning. It's an 833 mile road trip at minimum to the closest location in Kansas City, Missouri.
Fact is, Car Buyer USA beats Carvana at more than just their offer for your vehicle! We're nationwide and we pick up a vehicle in every single city in the U.S.A. That's TWO HUGE DEALS right there!
Honestly in full disclosure, if Carvana is partnered with companies across the country that will put them closer to you, I couldn't find any information on it and they didn't mention it during my call with them. In actuality, they said only told me I'd be taking a road trip. I also called their customer service number and asked:
Me: "If I sell my car to you outright, will you pick it up?"
Carvana: Can I have your zip code to see if we have a location near you.
Me: "So if I'm not close enough to one your vending machine locations, you won't pick my car up even for a pick up fee?"
Carvana: "No. You would need to drive your car to our location."
Me: To confirm, I must drive to your closest vending machine to me for Carvana to pick it up, right?
Carvana: "Yes."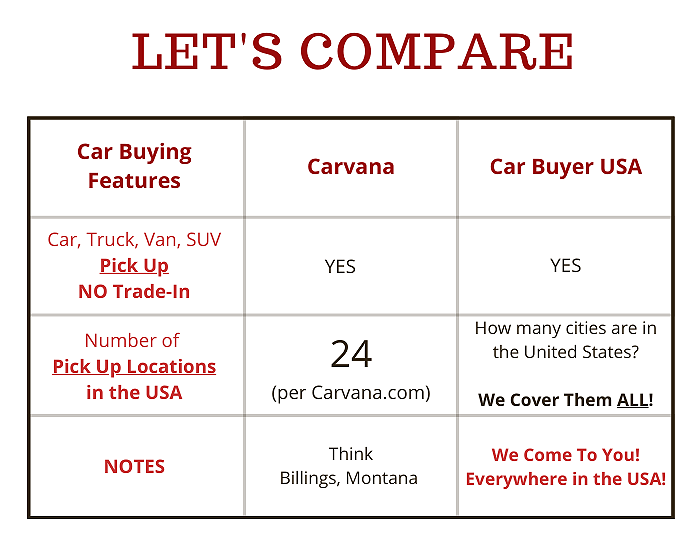 Let's Recap
Car Buyer USA buys vehicles in every city in every Continental U.S. state. Carvana will, but there's a catch.
Car Buyer USA will beat every Carvana offer AND WE MAY EVEN NEGOTIATE OUR QUOTE TO YOU to buy your car. Carvana does NOT NEGOTIATE PERIOD.
Car Buyer USA comes to you no matter what city, town, or village you live in, work in, or location you choose. Carvana DOES NOT.
Car Buyer USA provides hands-off service for your safety. Carvana probably does this too.
Car Buyer USA owners have no felonies. Did you check out the link above?
Personally speaking, this is strictly my view and NOT Car Buyer USA's AT ALL, my first thought when partially through the Forbes article, was you couldn't get me to do business with them and how the heck are they so big now?; but that's just me. Then the reviews I read on Consumer Affairs website came to mind. LOL, lawdy, lawdy; let a company deliver me a car I purchased from them online that is filthy, got candy wrappers and foods on the floor and in between the seats and console, have a sticky steering wheel (especially in this terrible time of COVID-19), deep scratches, broken lights, side mirrors, and the rear view mirror, dings and dents – big and small – that didn't show up in the picture I saw online, and the list goes on. BUT the absolute cherry on top of the cake, deliver me a different colored vehicle than what I paid for! Oh my goodness, I don't know if I laughed so hard because it was like, how did that happen?? Or, just from being dumb-founded and absolutely floored at how such a large company doing so well financially, gets away with this type of customer service and practices? I will say this, reading about experiences was definitely entertaining. If you'd like more info, check out the link for CA above – you'll just need to search Carvana reviews. It doesn't feel right to link from here to them. Just take them with a grain of salt, so to speak; because all reviews, good and bad, may not be altogether truthful.
Reviews Disclosure: Yes, Car Buyer USA has bad reviews too, but the majority are from not being able to buy a vehicle for the amount of the initial quote. Once the vehicle inspection is done, if there are issues we didn't know about at the time a 20-second cash offer was provided, and we're going to incur repair bills, then it's a no brainer the offer price is going to drop, don't you agree? We don't like to do this and we know it's not a pleasant experience, but a seller should understand, right? Unfortunately, not always the case.
In closing, if you need to sell your car quick, you're in the right place no matter where you live in the U.S. Odds are you've heard the phrase "nitty-gritty", but just in case, it's defined as, "the most important aspects or practical details of a subject or situation." That's us. That's what we do. We customized our process design just for you and have made it as convenient for you as possible. Follow the how to steps below and see how easy it is to sell your vehicle the fast, safe, and easy. If "SELL MY CAR FAST" is tossing around in your head, this is how you get it to stop and get cash in your bank quick! #SellYourCar today from the safety and convenience of your home; this is especially important during Coronavirus COVID 19. If you want more for your car, we will BEAT ANY CARVANA OFFER! Aaand, if your don't think you can sell your car quick – truck, van, or SUV too – from your couch, you're wrong. If you don't think we will come to you no matter what city you live in; we'll make a believer out of you. Oh, and before I forget, we will beat any Vroom offer too. We buy cars fast, safe, and easy; and we're the best at it. Watch a 30-second video to see how it works and then get your 20-second cash offer.
Permalink
|
|