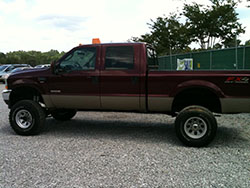 You are all excited about trading your truck in for brand new one and the dealer tells you "you will be better off selling your truck privately".
What does that mean? Why won't the dealer take your truck in on trade? There are a really only two reasons that the dealer won't take a vehicle in on trade:
1. PRICE - they can't get close to your expectations – the dealer wants to sell you the new truck. If you came into the showroom waving the Kelly Blue Book print outs telling him how much you expect for the truck in order to make a deal, the dealer won't take the risk of running you off with a low-ball trade allowance. It's much more tactful for them to tell you how much you can get selling the vehicle on your own.
2. Condition - they can't sell the vehicle. This happens when accident history comes into play or the vehicle has been modified from factory specifications. A good example would be adding an 8" suspension lift and 40" tires. Most dealers do not have a market for this type of vehicle. It also may be that your vehicle is in really bad shape and would require too much reconditioning to make it ready for retail.
If you proceed with the transaction, good for you that you have the resources to make the deal. Selling your truck privately is not an easy task however, and things like suspension & performance mods and accident history make it very tough. Today, most vehicles over $10,000 are very difficult to sell online as most buyers need some type of financing.
Selling your truck will also take about 30-45 days and most people can't wait that long for the money. So if you can't sell your truck yourself, give us a call at (888) 995-6498 and we will make an immediate cash offer.
CaBuyerUSA.com buys all types of cars & trucks in any condition, anywhere in the USA.
For more information please visit www.carbuyerusa.com.
Permalink
|
|