Unless you live under a rock, you can't avoid hearing countless claims on every channel of conventional and digital media that your vehicle is worth the most money ever, right now! "Sell your car today and you can retire early" is what you hear on every news channel and blogger site on the net! "How to get the most for your used car" postings every day since COVID 19 hit the US. Fear, panic and consumer reaction created a hyper inflated market for used vehicles.
While supply chain problems created by COVID shutdowns curbed new vehicle production for months, people were forced to turn to used vehicles as their only option. That created the biggest used car market bubble in the history of the automobile business. Fortunately, that bubble didn't burst, but the decline is happening and used vehicle values has been gradual and steady, rather than in the form of a market crash.
A look at wholesale vehicle valuations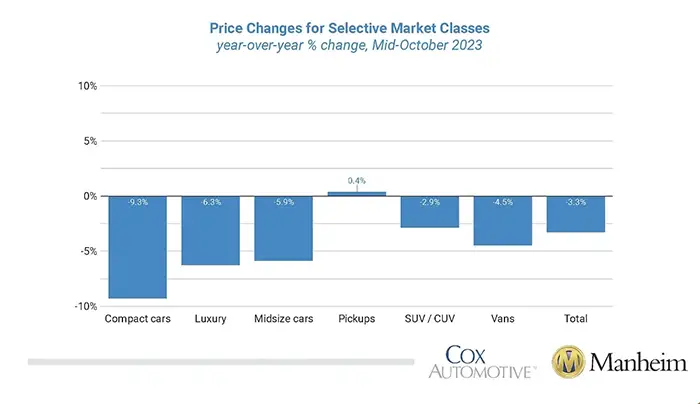 People almost exclusively corollate a vehicle value with a "retail" valuation. The illustration above represents vehicles traded at auction at the wholesale level by dealers. As you can see, all segments are in decline except pickup trucks which are the most resilient as they are used for work. People can't stop working and the truck is just another tool that's needed for the job. When it breaks, it gets fixed or replaced!
There are a multitude of factors that will affect the ultimate transaction price of a vehicle including: Configuration, Color, Condition, Geography and Retail Demand (is it popular). Remember that this is the starting point for the valuation and factors like accident(s), maintenance, vehicle recalls, title brands, country of origin and mileage will have a significant impact on the vehicle valuation. What today's blog is more about…"how do I get paid?". Great question! The answer is simple, when somebody buys the vehicle and writes the check, sends the wire, transfers the cash or hands over the greenbacks!
Finding a buyer isn't easy.
So, what are you selling? How much is it? Where did you get the vehicle value from? Is there a lien on the vehicle? How do I find potential buyers, on a website? Which ones are the best? What about Facebook Marketplace? There is a lot to consider and a lot of work to be done if you want to sell the vehicle privately. The price point will really determine how difficult it will be to sell your vehicle privately, but before you embark on that journey let's take a look at why… Is it your goal to take on the assignment of cleaning the vehicle, talking images, listing it for sale, sifting through leads to weed out scams, meeting and negotiating with buyers on off hours? Probably not. You are conditioned to believe that it will yield the best price, right? The answer is most likely, No! Facebook Marketplace is a great place to let friends know you have a family heirloom for sale but most of the inquiries will be Spam or Scammers. Recently we tested selling a vehicle on Facebook Marketplace and the first 8 responses came within 2 hours of the initial listing and they were all trying to get our phone number. Not one of the leads was real! You can list a vehicle on Auto Trader or KBB and pay to have access to a much larger audience but private sellers are but a fraction of their marketplace. It is highly likely that a dealer will be watching or inquiring about your vehicle. Is that bad? Not at all they might actually have a need for the vehicle you are selling and pay a fair price for it delivered to their doorstep.
What is a Fair Price for my vehicle?
If a dealer is buying it, they intend to re-sell the vehicle and make a profit. The price ceiling for that resale transaction has always been "retail" so if you are holding out for retail most dealers won't be your best option. Who will pay me retail for my car? The short answer is…probably nobody. Private buyers want to avoid dealers for the same reason as private sellers. They want to get a portion of the profit the dealer makes and pocket it! Easier said than done and the battle is arduous and full of risk and personal time. If the average gross profit on a used vehicle is $2000 then you "might" save half of that for all your labor, personal and financial risk. Dealers provide financing and can handle lien and title transfer which most private buyers cannot. Love 'em or hate 'em, auto dealers are here to stay.
Online Car Buying Sites
A new school dealer of sorts. While they are licensed for wholesale and retail transactions, some buy cars exclusively and others will buy & sell vehicles nationwide. Car Buying has gone digital full-scale and some companies will require that you bring the car in or to a 3rd party location for an inspection. There are a few that will come to your home or pace of business, inspect the vehicle and remit payment. All will provide an approximate price and subsequently reconcile that number with a condition report or evaluation that outlines broken, missing, inoperable or damaged parts and excess wear and tear. If you look at the miles driven, there will be a correlation with pricing adjustments. This means if you drove your car for 86,000 miles in 4 years it is bound to have damage and wear that will require reconditioning to remarket that vehicle. The exception is an accident, which causes an immediate loss in value vs. the same vehicle that is accident free. These are the tangibles that prevent sellers from selling their vehicle for KBB Retail Value.
If you're selling a vehicle right now it's a great season, so enjoy it. if you are buying, maybe not so much fun right now! It all boils down to the most simplistic of economic conditions, supply and demand. We have an extremely limited supply of used vehicles and now thanks to the UAW halting domestic new vehicle production, a lot less new vehicle inventory. It is important to remember that guidebooks and vehicle valuation providers do not write checks, ever! So, the true value of any vehicle will ultimately be the amount that someone is willing to pay for it. Finding the largest possible audience for what you are selling gives you the best chance at maximizing the value.
Michael P. Lasini is a business leader with 35+ years of experience in all facets of wholesale and retail automotive sales and marketing. He is the founder of CarBuyerUSA.com, a nationwide consumer-direct car buying company with $150M in revenue and the chief architect of proprietary pricing technology that powers multiple consumer-facing websites specializing in vehicle valuations for whole and damaged vehicles. Lasini is also a patent applicant for predictive damaged vehicle pricing technology and diminished value calculations.