When buying or selling a car privately, verification of ownership is critical. I mean…"why would you pay for something that wouldn't be yours legally, right?" Sometimes a used car for sale looks "too good to be true" and chances are that "it is" and there is a problem! Don't let it be with rightful ownership. There are very simple precautions that can be taken to prevent financial loss by fraud, incompetency or criminal act. We buy millions of dollars of vehicles each week all over the USA and we encounter a multitude of title issues.
Here's a quick look at the kind of title problems we see:
Liens – sometimes they are not filed with proper governmental sources (hidden)
Tax Liens – also will be hidden and will encumber an ownership change
Domestic Liens / Judgements – the person who owns the vehicle has an unmet financial obligation against the vehicle, hindering ownership transfer
Brands: salvage, flood, total loss, lemon law (buyback)
Bonded Titles - the person in possession of the vehicle cannot prove ownership, so a surety bond was purchased to obtain a negotiable title (risky)
Mileage Discrepancy – mileage not actual or mileage on vehicle different from what appears on title or Vehicle History Reports (CarFax/AutoCheck)
Re-assignments – Jumped Ownership Titles – sellers transferring ownership to avoid sales tax that are not licensed dealers (very risky)
Electronic Titles – no paper copy available
Damaged/physically altered – disfigured, altered, illegible info entered, etc.
Endorsed improperly – signed improperly, signed in wrong spot, red pen used (blue or black only)
Correct information – printed name and signature must match what's on the front of the title "exactly"
Year/Make/Model/VIN should all match the vehicle
Odometer – miles must be entered on the title exactly as on the vehicle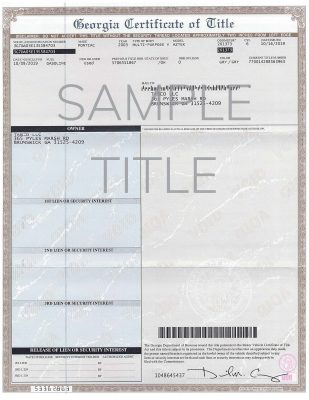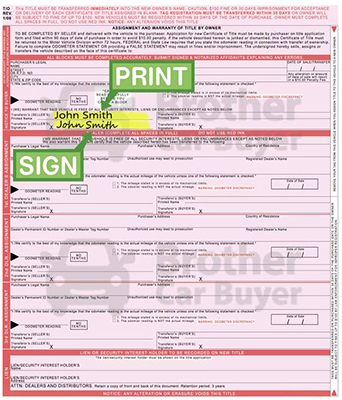 It is the sellers and the buyers responsibility to ensure ALL the info on the title is correct. If you are selling a vehicle and the title is not properly conveyed you are financially liable for anything that happens going forward as the vehicle is still yours. Buyers…you do not own the vehicle until the title is executed properly and conveyed to you.
States currently offering Electronic Titles:
Arizona, California, Colorado, Florida, Georgia, Hawaii, Idaho, Kansas, Louisiana, Massachusetts, New York, North Carolina, Ohio, Pennsylvania, South Carolina, Texas, Utah, Virginia, Washington, and Wisconsin
For more information on titles please contact us at: info@carbuyerusa.com and we will try to assist you.
Permalink
|
|