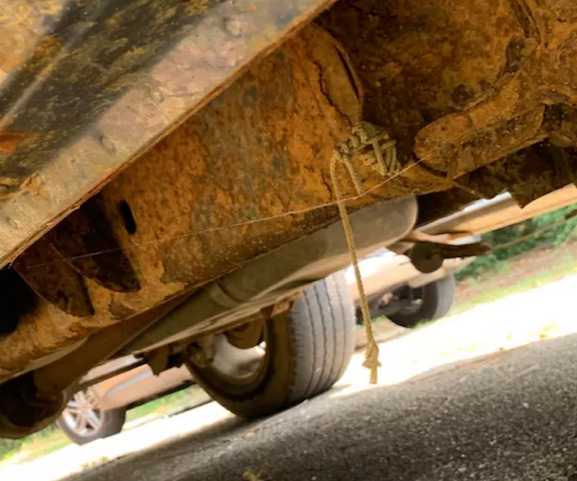 Can I sell my vehicle if it has rust? The answer is always "you can sell anything for the right price"! This is an absolute truth in life, but the question is… how much less?
Rust is like cancer…it spreads with ferocity and it can rarely be stopped. In fact, it has to cut out and new metal has to be welded into place for a proper repair. Only the highest quality repair shops are able to successfully strip out rust and restore a vehicle with repairs that will last. These repairs are exhaustive, very costly and quickly outrun the book value of the vehicle. Rusted out vehicles quite simply are not worth very much as they only provide transportation value for a finite amount of time. A vehicle without rust can last for hundreds of thousands of miles if properly maintained but a rusty one will ultimately just fall apart, collapse and return to the earth from whence it came.
Trucks and SUV's with frames may last longer than a unitized construction vehicle because the frame rails may be less compromised than the body panels which are made of thinner gauge sheet metal. That said, a truck's payload capacity will immediately be compromised by rust and off road capability will be reduced because the rusty frame cannot take any stress or punishment. The image below is the frame of a full size pickup truck that had nominal rust that was visible cosmetically. This truck was either in salt water quite a bit or used to plow roads in the Snow Belt where heavy salt use is prevalent. As you can see the frame is fully perforated and will buckle soon and the truck will essentially bend in half and stop moving. Even a 500# payload is unsafe in this vehicle, hence it is worth little more than scrap in its condition. A truck like this is not worth repairing and it is an economic total loss due to rust.
What can you do if you have a rusty vehicle? Shop around with parts buyers that may need components of the vehicle that are intact. Or…keep driving the vehicle as long as it's safe to do so - otherwise understand that rust will truly destroy the resale value of your vehicle.
For questions or additional information about this topic or a free vehicle valuation please email us at: info@carbuyerusa.com
Permalink
|
|