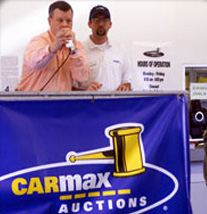 CarMax is the nations third largest automotive retailer and they do a pretty good job selling cars, but unlike other retail automotive chains, they will make an offer to buy your vehicle even if you choose not to buy a vehicle from them. It's part of their brand promise. CarMax advertises that they will buy any car, but they wind up only buying the cars they want to retail at one of their stores. These vehicles are typically late model vehicles with lower than average miles and they are of course in the best condition. If your car doesn't fit the aforementioned criteria, it falls into the same category that 75% of all used car do – the average or "well used" category. CarMax will make an offer on anything they have a chance to appraise, but it may not be the best money available to the seller. CarBuyerUSA beats most CarMax offers, and our payment is guaranteed to be faster and secure.
CarMax will buy any car, but they will resell it to another dealer at "wholesale" at one of their auctions for profit so before you sell your car to CarMax, check with CarBuyerUSA.com and we will beat the CarMax offer.
It only takes 5 minutes for you to find out if you are getting the best money.
Call (888) 995-6498 to speak to a live buying consultant or visit www.carbuyerusa.com